So in the space of 1 week, 2 very beautiful super cars have been totalled in sunny South Africa.
The first was a Lamborghini Murcielago Roadster that took a turn too fast and lost control at high speed. It flipped on the racetrack like De Waal drive in Cape Town where it came to a standstill on its roof. Apparently the driver walked away with nothing more than a bruised ego. Very lucky I think…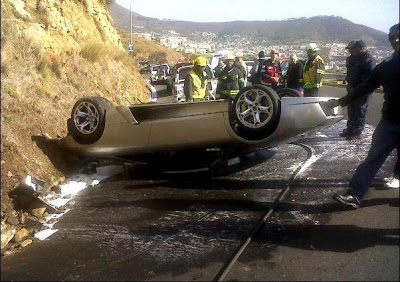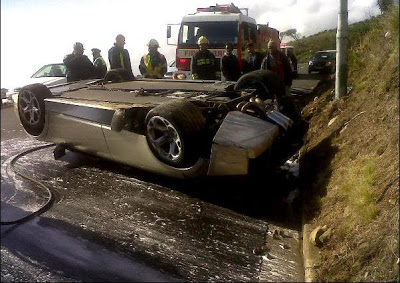 The 2nd wrecked supercar is that of a stunning V10 R8 convertible… in white! This belongs to the infamous businessman Kenny Kunene (who happens to own other Porsche's, Ferrari's, Aston Martins and Lamborghini's). The driver however was the chairman (Gayton McKenzie) of Kunenes' ZAR nightclub in Cape Town. He was travelling in a convoy of flashy cars home from a weeding (in Mthatha) when the R8 Spyder flew off the road, crashed through a fence and came to a stop in a field. He was travelling with former Miss SA Teen Moloko McKenzie who was knocked out cold. Gayton 'walked' away with a broken foot. Kunene was following him in his black Lamborghini Gallardo and witnessed one of his multi-million Rand cars depart from the road. Sad ending to such a beautiful machine.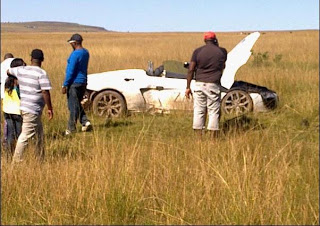 Eish! How can this happen??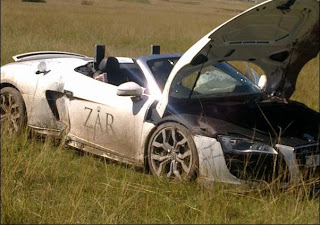 Sorry looking R8 Spyder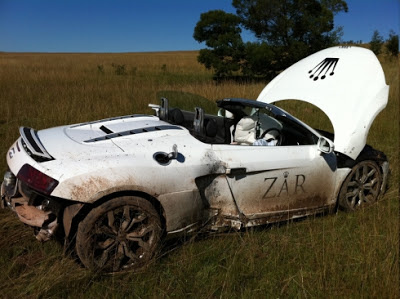 Nice advertising ZAR 😉