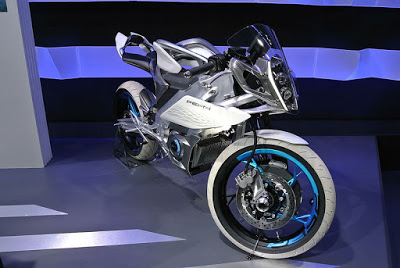 We've seen electric cars hit the big time, especially with the news coming out of BMW that they'll have electric versions of all of their cars across their entire range by 2020. But now electrification is coming to bikes too, with the appearance of a range of models that are proving to be very competitive.
The bad reputation of electric vehicles seem to have come from the fact that they used to only be seen in milk floats with a top speed of 15 mph. But with the introduction of cars like the Tesla Model S, a car that can accelerate from 0 to 62 mph in 2.5 seconds, electric vehicles are increasingly being seen as high-performance in their own right.
Now three companies, Zero, Alta, and Victory – the Teslas of the biking world – are trying to bring electric bikes to the masses. Hot on their heels are more established bike makers, including of course BMW, as well as Harley-Davidson, all indicating that they too would like to enter the market.
The electric bike makers claim that they have managed to improve a bunch of features on their new bikes including everything from reducing charge time, to bike increasing range to improved build quality. As Bikers' Basics points out, these are the sort of bikes that you'll probably want to take a lot of care of. The bike manufacturers are also claiming that the bikes themselves require far less maintenance, thanks to the fact that electric motors have far fewer moving parts. And on top of all of that is the tax advantage: electric bikes pay no road tax, making it a cheap way to commute to work every day.
One of the most exciting bikes out there right now is the Zero DSR ZF13, on sale right now for an eye-watering £13,000 ($16,000). The bike is designed to look as traditional as possible, with a classical design that makes it look a lot like its petrol-powered rivals. But it's not just looks either: just as with electric cars, electric bikes are able to go toe-to-toe with their petrol-powered brethren head-to-head. The ZF13 is one of half a dozen models currently available from the company with a range of more than 288 km.
Yamaha PES2
At the end of 2016, Toyota wowed crowds with the introduction of two new, and very futuristic looking, electric motorbikes. Not much is known about the PES2 at this stage, although the company has says that it is currently operating prototype electric models of the bike. Because the bike is electric, Yamaha are saying that they want to inspire a whole new experience of riding a motorcycle. Things are going to feel very different if the company's marketing spiel is going to be believed.
Alta
San Francisco-based Alta is also launching its own electric bike after more than eight years of development. Currently, the company is focusing on supermoto and motocross bikes, as well as its MX dirt bike. Insiders think that these new electric models will actually supersede their petrol 250cc counterparts upon release.
Looking for a bike to purchase? Well Magic Bike has a fantastic selection of dirt bakes on offer. Just head on over and browse till your hearts content.