The Volkswagen brand is generally considered to be a low-cost brand or conjures images of 1960s hippie culture camper vans. But they also specialize in high-end cars. They created quite the stir when they released information regarding their GTI Roadster Vision Gran Turismo: an impressive looking high-end concept sports car. The release of conceptual images was the talking point of Volkswagen loyal customers and a broader audience of roadster fans. People couldn't wait to know more about it, but information has been put on hold until recently. So, what have we learned since then? Here's everything we know about one of the most exciting conceptual vehicles to be released in a long time.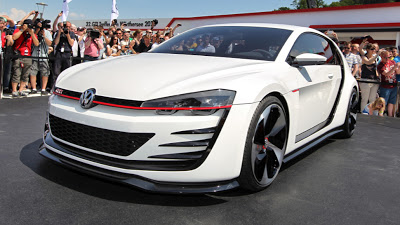 Concept
The GTI Roadster Vision Gran Tourismo is essentially a show car that builds on Volkswagen's 2013 Design Vision GTI. Like other big, household names Mercedes-Benz and BMW, Volkswagen originally designed this car as a purely virtual vehicle for PlayStation's game Gran Turismo 6 but was made into a reality due to popular demand. While this model wasn't ever going to be on hand and ready to buy at your local volkswagen dealership (being a concept car), it is a real thing and indicates the direction that Volkswagen may start taking with the GTIs design in the future. It looks like there are exciting things to come for the potential purchaser of Volkswagen sports cars.
Engine
The car's engine is its star feature. It is a massive 3.0-liter, twin-turbo monster, complete with a seven-speed gearbox to boot. As the vehicle is relatively lightweight (at a mere 1420kg), the engine can propel it from zero to 62 miles per hour in 3.6 seconds. Impressive, right? At full speed, it can accelerate at a whopping 192 miles per hour. That's, amazingly, faster than certain designs of Ferrari. Obviously, this isn't suitable for road use, but it just exemplifies the amazing technology that has gone into creating this high power car.
Design
As you may well have realized by now, the car does not have a roof and is lower, wider and shorter than a car that would be able to grace city and country roads. Again, this is a concept car, so isn't the kind of thing you'd be nipping down to the shops. But the result is still massively impressive. It is designed with aerodynamics in mind. The huge rear wing provides plenty of downforces to increase overall speed, and the motor has a classic, sleek, overall look to it.
Wheels
The model has VW's signature "4 Motion" all-wheel drive system. This system is renowned throughout the world for being reliable, stable and effective. The wheels will give drivers a great grip on the road, whether you're experiencing rain, strong winds or snow and frost (this is especially essential when reaching high speeds). There is an inter-axle differential at the heart of the 4 Motion system, which appropriately balances power between the front and rear axles. This is essential for effectively controlling a rear-powered vehicle.