Having a Subaru Impreza is probably most boys (and some girls) dream from a very early age. No matter what year the car is brought out, it still looks impeccable. Some of you might be put off because you see the boy racers ragging their Subaru's engines around town, but after this article you'll be sure that this is the car you want next. Here is why you should consider buying a 2017 Subaru Impreza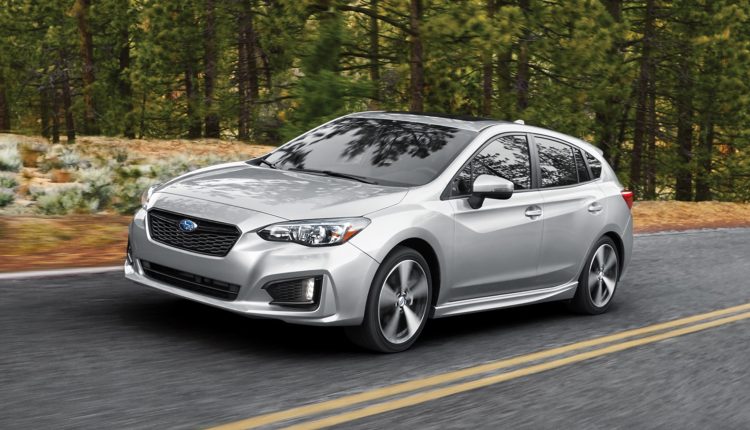 Style




First and foremost, can we just stop to bask in the glory of how amazing the Impreza looks? As mentioned earlier, no matter what year, Imprezas always look amazing. There is something about this model though, that looks that little bit beefier and would certainly turn some heads if you were driving it through town. The elongated headlights that smoothly fit into the bodywork of the car, which continues right to the back of the Impreza with a smooth and sexy finish. Even the side mirrors don't look out of place, unlike some cars which quite frankly, look like ears that aren't quite in the right position. It's also almost impossible to have the wrong color Subaru too, as the Impreza looks incredible in any color or shade.

Cost to buy




Of course with Subaru, there are tons of optional extras that you can have on the car. Prices start at around $22,500 give or take, depending on your dealer. Who can complain at a price like that? Compare that price to most other stylish five door cars out at the moment and you will be laughing, with money to spare too. Maybe you could opt in for the optional extras and feel like you're rich and famous while doing so.
Easily obtainable spare parts




One of the most favored things about Subarus, is that spare parts are so easy to come across, and won't cost you a huge amount of money to buy either. Even if you're unable to buy new

Subaru spare parts

, there are second hand parts widely available because Imprezas are such sought after cars. So, if you're worried about any repairs to you vehicle being overly expensive, you can cross that out of your mind and rest assured that any spare parts you need won't cost you an arm and a leg.



Great mileage




Even though this model has a 5-speed manual gearbox, drivers can expect to get around 38 mile to the gallon. One downside, is that because of the manual gearbox the fuel economy does drop a little. Then again, who doesn't love switching gears the good old manual way, especially when you're driving a beast like the Subaru Impreza. On a full tank of gas you can expect to do around 450 miles, which quite frankly is impressive.



Speed




While the 2017 Impreza

isn't the fastest

on the market, it will certainly give a few of it's competitors a run for their money. This 152 hp engine goes from 0-60 in 8.2 seconds and reaching a high speed of 122 mph, you can't in any way say that this car is slow. You're looking at around 30 seconds to reach it's maximum speed, and that's if you have a straight road long enough to test it out on.



Spacious




Even the tallest of people won't have any issues with becoming stiff on a long journey in the Impreza because this model gives any other midsize sedan a run for it's money with space. You won't need to worry as your children get older about their feet digging into the back of your seat, as there's plenty of room in the back too. The fact that it's also a 5 door car makes it even easier to load the family in and out.



Accessories




As you can imagine, Subaru have pulled out all of the stops when it comes to accessories for this model including racks for the roof of your car which will carry skiing equipment, kayaks and many other items. They've even created accessories for your trunk for easier handling of your groceries too.



Handling




As always, Subaru have created a car that's not going to fault when it comes to handling. Even behind this engine, the car will glide around corners perfectly, with the suspension taking up any impact from the road for a smoother ride. Even in the wettest of weathers you can expect the Impreza to hold strong and prove itself to be a strong and reliable car. The car has a sports-tuned suspension meaning that you can rest assured it's got your back. Turning corners has never been so easy either. Instead of having to battle your steering wheel around that sharp corner, the Impreza will make fast and sharp turns whenever needed.
Pristine interior




Luckily, the style of the Subaru Impreza 2017 doesn't stop on the exterior. Stepping inside of this car will take you to a spacious, plush, and modern heaven. The dash is fitted with up to date technology like GPS, stereo and disk players, bluetooth, Airdrop and Android Play. The large interior seats are dark grey with red stitching for that extra stylish finish. Your speedometer and rev counter will dazzle you with it's glowing red features, it will really make you feel like you're driving a pumped up sports car.



Safe




Subaru have gone all out when it comes to safety to make sure that whoever is in the car will remain safe while travelling. One crash in a Subaru was documented where the woman driving it walked away from the wreckage and bought another Subaru straight away because she was so impressed with how well the car protected her from a potentially fatal crash. You can expect this in the Impreza too as it's fitted with accident avoidance technology. This includes sensors that let the driver know when anything is coming close to the car to warn them to move out of danger. Sometimes though, this might not be enough so Subaru have fitted the car with the latest

technology in airbags

in both the front and back seats to ensure that everyone travelling in the car is safe. Perfect for those who are looking for a large and safe car for their families.



Clever engine, meaning less emissions.




The Subaru Impreza is not only great for fuel costs, but it also let's out a low amount of emissions because as soon as gears are changed, the engine makes up for any power lost or gained; therefore releasing less emissions. So as you're gliding through each gears you will be happy knowing that you're not ruining the environment either. Tax and insurance should be fairly cheap too because of the low emissions and also how safe the car is.

Audio




Not only will the car purr as you're driving it, but the upgraded

sound system

that Subaru have applied to the car will soon have you belting out those tunes. Even as you turn up your music, you're sure to keep the same crisp sound that you've always been after in the car. So, as soon as you buy the car and step in, be sure to whack on your favorite tune and have a good sing!

Optional extra that shouldn't be missed out on




Subaru are giving new buyers the option for their Impreza to be fitted with what they call "Eyesight". This basically helps improve the safety of the car even more by using the cameras fitted within the car to assist with braking for you if it indicates danger of a crash, keeping control of your cruise control and also being able to warn you if you're about to pull out into a dangerous area or across lanes. Personally, if paying a small amount extra on top of this very reasonably priced car could potentially save my life, I'd be happy to dip into my pockets for it.
Of course, not every car is perfect so here are a few of the downsides of the Subaru Impreza 2017:
There are competitive models that are faster, and with better acceleration.

Although a lot of people like a car that makes a nice amount of noise while they're driving it, it might not suit everyone.

Compared to previous models of the Impreza, the trunk space isn't that impressive.

At present, it's only available as a manual 5 speed gearbox.
How does it stand against it's younger siblings?
In all honesty, every car has it's downfalls but Subaru have consistently improved their Imprezas over the years. I think the 2017 model is the best one yet, but that's all a matter of opinion.
Subaru have really pulled out all of the stops when they made this version of the Impreza. It's stylish, affordable, economical, spacious and safe. What more could you want from a car?