When you are looking for a high end used car, three of the top brands spring to mind – but how do you decide between going for an Audi, a Mercedes or a BMW? We understand how tricky it can be to make that decision, which is why we looked at all three in this battle of the used cars, to bring you the key features and issues from each luxury car brand.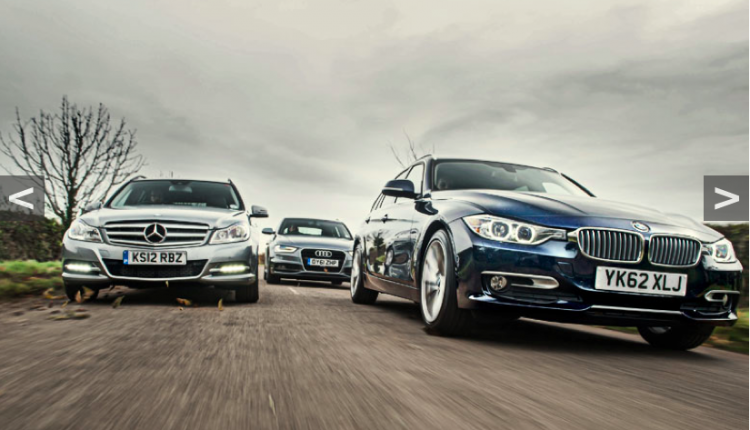 Audi used car models
With prices ranging from £2,000 up to £25,000 for a used Audi on sale, there is one for every budget. Audi has come to symbolize prestige and success over recent years and have grown in popularity in the used car market as a result. At the higher price range you have the Audi RS4, powered by a 4 litre V8 engine, with predictions that even a used model will hold its value over time.
In the mid-range budget at around £10,000 you could pick up an older Audi TT – just look out for wear and tear on the leather seats if the previous owner hasn't looked after them properly. Or for a family version, go for the Audi A3, which still has the prestige, but features a lot more room for luggage and people.
Finally, if your budget is at the lower end, you will certainly be able to pick up an older model Audi A3 for around £2,000 – this family hatchback was among the first of the family hatchbacks back in the day and you could well find one that will still serve you well with some TLC.  At this price range an older Audi A4, comparable with a BMW 3 Series, could also be picked up and can be pretty reliable – try to get one with a full service history though.
BMW used car models
As one of the most popular used cars around the world, most people would think a BMW would be out of their price range, even a second-hand one, but there are so many models out there that it is entirely possible to pick one up even with a small budget.
If you are looking for an electric car, the BMW i3 can be picked up nearly new for under £25,000 now and is not depreciating particularly quickly. It has a very spacious interior and of course you will save money on fuel spend by opting for one of these.  If you want more of a luxury feel, then for the same price you could get yourself a BMW 5 series, with that premium quality executive appearance.
With a budget of around £5,000 you could opt for the BMW X5 for that SUV style, although watch out as repairs can come in pricey with this one. The BMW 7 Series could provide you with another bargain but luxury used car in this price range. It features lots of gadgets and a powerful engine.
With only £2,000 you can take your pick from a wide range of BMW 3 Series models. Go for the six cylinder petrol engine option and enjoy the classy interior and classic BMW look, for a whole lot less money than a new one.
Mercedes Used car models
With its reputation for producing high –end luxury, but long-lasting cars, it's no wonder that Mercedes is becoming an increasingly popular choice in the second-hand car market. There are more choices than you think as well.
If you want the classic, glamorous Mercedes convertible then go for an SL – at around £25,000 – you can pick up a decent second-hand model. With an amazing interior, gadgets, and a car that will turn people's heads everywhere you go, you can't go wrong with this used car. For a more practical hardtop at the same budget, the CLS features stunning curved design and can be found at around the same budget as the SL.
The good news is that even if your budget is lower, you can still own a Mercedes. These models all come in at between £10,000 and £5,000 as used cars: older generation C-Class for a really cool executive-style car; the E-Class Saloon which rivals the BMW 5 Series; the older SLK models with convertible roof; the original CLS model.
Now for the surprising bit – even if you have a budget of just £2,000 you can still be the proud owner of a used Mercedes. The Mercedes A-Class mini MPV falls into this budget providing practicality alongside prestige. The 190E is rapidly becoming classed as a classic car and can be picked up at around this price making it potentially a good investment for the future. The SLK convertible is another reliable older Mercedes which holds its glamorous looks and comes in at this price range.
Conclusion
As you can see, whether you are looking for a convertible, an executive luxury model or a practical family car, the three luxury brands of BMW, Audi and Mercedes all have a surprisingly wide range of options available.
In the used car market, whether you are looking to spend £2,000 or up to £25,000 you can be assured of good quality, lasting cars, which all come with that prestigious feel and luxury look when you opt for any of the models outlined here.
If you have always dreamed of owning a luxury car, but thought they were outside of your price range, or only came in two-seater sporty versions, hopefully we have opened your eyes to the plethora of options available to you in the luxury used-car market.