You may know that the Ford Bronco has been one of the main choices for 4×4 vehicles on the market. The reason for this is because the first Bronco has been engineered with 170-cubic inch six cylinder capable of producing 105 horsepower. At that time, this was simply unheard of from many of its competitors. In addition to this, customers had to choose between three different body styles: a half-cab, topless roadster, and the standard wagon.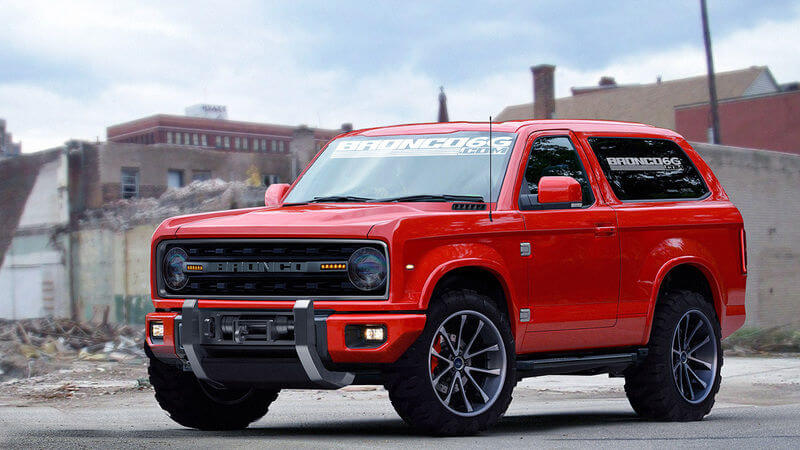 What To Expect
There's no hiding the fact that Ford is working hard to revive its name in the past few years. Even though it has been discontinued in 1996, the two-door truck will be reborn. It will be branded for thrill seekers who want to venture. Ford Bronco is predicted to be a vehicle that will be a staple of American off-road culture. In fact, it has been announced that the car will be assembled in Michigan Assembly Plant. This means that it will meet your expectations without a high pricing range.
One of the most notable features that this car will have for sure is the Tri-Zone Automatic Climate Control. This lets you and your passengers enjoy three distinct climates within the cabin. The driver front passenger and rear temperature controls are within an easy reach for an optimal comfort. This is very important especially if you want to have a superior driving experience.
In addition to this, it will also ensure safety as you may want cold air to keep you awake and the passenger next to you wants hot air in order to fall asleep. Even if you drive off-road on a sandy or muddy terrain, it doesn't mean that you will breathe in the air because the smart air conditioner will remove the particles before you inhale the air. Please make sure that you ensure you breathe fresh and clean air at all times as contaminated air is hazardous to your health.
Its construction will allow you to have plenty of much-needed torque at low rpm. The reason why this model will be preferred by those who want to use it on rough terrains is because its reliable. You can use it to dry on sand, gravel, riverbeds, mud, snow, and rocks. Even if you get stuck, you can rely on a winch to get you out of that situation. This is because it will be created with enough space for a winch to fit properly.
7-Speed Manual Transmission
The most exciting rumor about this is the fact that the new 2020 Ford Bronco will be available with a manual transmission of 7-speeds. This means that you will have incredible driving experiences as you will be allowed to drive it according to the surroundings and terrains. Even though you may believe that this amount of speeds will be confusing, you should know that Mustang MT-82 has a 6-speed transmission and it's highly likely that it will be available for the next generations. In addition to this, the Porsche 911 series has 7-speed manual transmission as well. This means that the majority of the high-performance sports cars have this incredible feature. By considering this vehicle, you will not have to pay the hefty price of Mustang and Porsche.
As mentioned, Ford is dedicated to improve its brand and through this, the use of fuel in an efficient way will inevitably become better. As well as, the number of speeds will ensure that you have a care-free driving experience at all times. Additionally, it proves that sustainable cars are becoming one of the most important factors buyers are considering. Thus, 2020 Bronco will provide you with high efficiency and sustainability.
What's important to grasp is the fact that the presumed 7-speed manual transmissions will be available on a limited amount of Broncos. However, this still puts it into a category that cannot be matched by its current competitors.
Gas-Electric Hybrid
The reason why electric cars are an obvious choice for off-road tasks is because it provides plenty of torque. Even though Ford hasn't highlighted that it will be a hybrid, the spokesperson has suggested that is has been created to "…ease ownership experience by addressing customer pain points". What we predict is that 2020 Bronco Ford will have an electric recharging option combined with a hybrid system that will not affect your driving experience. As well as, due to the fact that it's created this way, you will have the ability to take a wide variety of equipment with you. Speaking of engines, the new Bronco is expected to be designed with a 2.7-liter EcoBoost with a capacity of 325 horsepower. This makes it the most powerful engine option than the previous models.
Design
Looking at the latest teaser picture released by Ford, the sharp edges, boxy look, almost flat front, and bonnet makes it look like a mixture between Ranger and Troller series with a retro-inspired look. Even though this information is solely based on guesses, we certainly aren't sure of how many colors will be available. Due to its design, you will be thoroughly pleased to know that you will benefit from all of the advantages off-road vehicles have to offer.
As well as, you will have enough storage space to take away with you a range of equipment in case you want to go hunting or fishing. If you're serious about practicality and incredible off-road experiences, you have to consider this vehicle as one of your options.