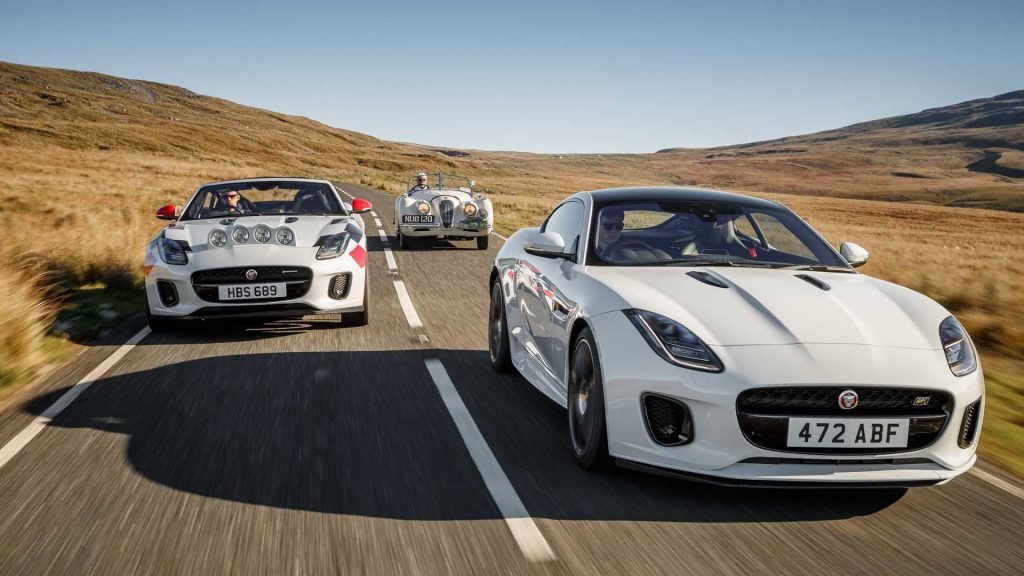 Jaguar is a luxury automaker that's part of the Jaguar Land Rover group. Headquartered in Coventry, England, this British group is owned by Tata Motors, an Indian company.
According to numerous journalists, Jaguar has been responsible for some of the best looking automobiles in automotive history.
Currently, the company manufactures an extensive line of vehicles. This includes the E-Pace, F-Pace, and I-Pace SUVs. They are also known for the F-Type sports coupe and convertible. As far as sedans go, they have the XE, XF, and XJ models.
Our friends at Warren Henry Jaguar of Miami , Fl proudly point out that Jaguar will be celebrating it's 100th anniversary in just 3 years.
The Beginning
In 1922, William Walmsley and William Lyons were two motorcycle enthusiasts that joined forces and formed SS Cars, Ltd to produce sports salons. A few years down the road, in 1934, Walmsley sold his part of the company.
In 1935, the first Jaguar, SS sports saloon, made it's debut. It featured a 3 ½-liter engine and received the name SS Jaguar 100. Just a decade later, during a meeting of the shareholders, the company's name was changed to Jaguar Cars Limited. For the next five years, the demand for production grew, but there was a shortage of steel and Jaguar tworked with external suppliers to create their car bodies.

Stunningly good looking
In the 1950s, Jaguar sales took off as soon as the started producing sports cars. Several popular models of the time include the XK120 (From 1948 through 1954), the XK140 (from 1954 through 1957), the XK150 (from 1957 through 1961), and the E-Type (from 1961 through 1975). During the era of the XK series of sports cars, there was little rivalry for Jaguar. Their achievements were remarkable and they owned the market.
Engine Manufacturing
Lyons' success after the Second World War had a lot to do with the famous Jaguar twin-cam straight-six engines. It featured a hemispherical cross-flow cylinder head and valves that inclined in a vertical position. Fuel octane ratings remained low after 1948, so three piston configurations were offered. They were domed for high octane, flat for medium octane, and dished for low octane.
This in-line, dual cam six engine became the main power plant for Jaguar. It was used in the Mk VII Saloon, XK 120, Mk I and II Saloons, as well as the XK140 plus the 150. They even put it in the E-Type. Eventually, it became known as the Twin OHC XK Engine and it was the picture of longevity. They used the motor from 1969 until 1992, and it even made its way into some British Army vehicles. This engine often achieved a lifespan of over 200,000 miles when properly maintained.
Shifting Companies
For a while, Pressed Steel Company Limited was responsible for all the bodywork. That left Jaguar to handle all the mechanics and manufacturing. During 1965, the British Motor Corporation (BMC) and Austin-Morris purchased Pressed Steel. This was when Lyons started to worry about the future of his company. As a result, he allowed BMC to merge with the Jaguar Company. Together, they became British Motor Limited. By 1966, they changed their name to British Motor Holdings (BMH).
In the late sixties, the government pushed BMH to merge together with the Leyland Motor Corporation Limited. At the time, they produced the Leyland bus, Leyland truck, Standard-Triumph plus Rover vehicles. What resulted was the British Leyland Motor Corporation, founded in 1968. This merger didn't go well and there were many poor choices plus financial difficulties that created division. In 1984, the company left British Leyland Motor Corporation and went out on it's own again.
Ford buys Jaguar
In 1989, Ford offered to buy the US and UK shares of the company. They removed the listing from the London Stock Exchange in 1990 but didn't become an official member of Ford's Premier Automotive Group until 1999.
While Jaguar was part of the Ford Company, they never made a profit. They did, however, expand their range of products and included the new X-Type and S-Type. During this time, Land Rover and Jaguar started to become widely associated with one another. They had a joint distribution and sales network and even shared a few dealerships. Some of their models had shared components as well.
Tata Motors
In 2008, Ford sold the company to Tata Motors, an Indian manufacturer. The deal cost $3 billion and was financed by JP Morgan plus Citigroup. Included with this deal, Tata also received the rights to Daimler, Rover, and Lanchester.
Tata Motors, the new Jaguar parent company, created the Jaguar Land Rover Limited brand as a wholly owned subsidiary. This put Land Rover in charge of the design, production, and marketing of all Land Rover and Jaguar vehicles in the UK.
Today
Today Jaguar is a healthy company and is innovating a plethora of new technologies for it's brands.