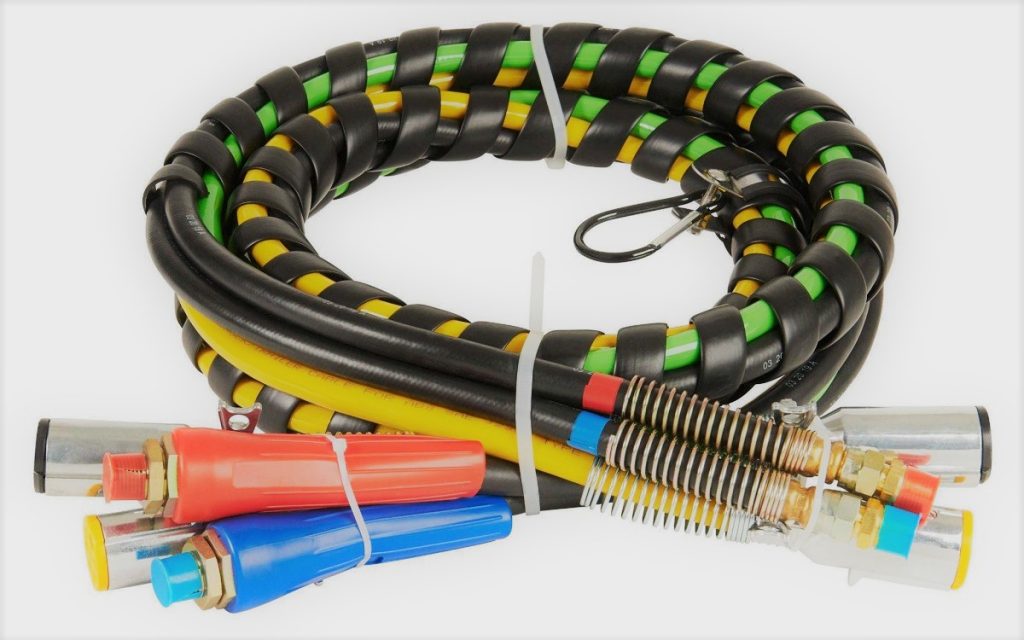 As the weather gets colder and snow makes the roads wet and icy, air brakes can be a helpful system to have in your flatbed or semi-truck. This truck air brake system works using compressed air instead of hydraulic brake fluid; while hydraulic brake systems are used as the main braking system on most passenger vehicles, semi and flatbed trucks carry a lot of heavy weight so an air brake system is more reliable as compressed air can be constantly produced compared to hydraulic fluid, which requires refills and can leak and make the brakes fail.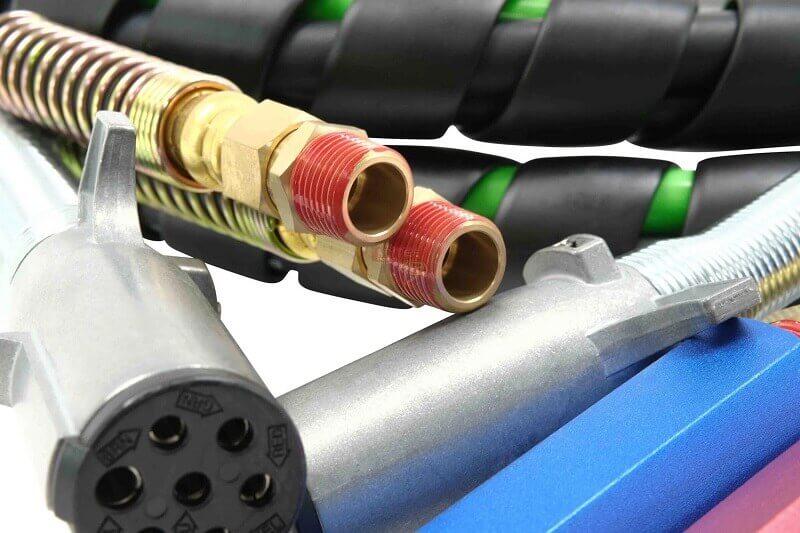 A truck air brake system is also easier to connect than hydraulic brakes. Click here to explore the air brakes system inventory like air brake hoses, coils, repair kits, lines and more equipment. While most truck air brake systems have parts that fall into a or truckers that drive in or through winter climates during the incoming snowy season, it's important to know the potential hazards the freezing temperatures can have on your semi truck air lines. Bitterly cold temperatures, moisture, and salt can negatively affect your truck, trailer, and air brake system. Knowing how to prepare air brake systems for the winter weather is important to keeping them working and keeping you safe all through the winter!
What's the Importance of Truck Air Brake System?
When it comes to the safety of your truck, having premium and high-quality semi truck air lines is a must! Working air lines should stretch and recoil to the proper working lengths to reduce the amount of stress on the gladhands. However, if temperatures drop too cold, they can lose their flexibility and cannot recoil properly. The lack of proper recoil can result in:
More force on glad-hands which can cause them to separate or pull away, creating air leaks.
Permanent damage to semi truck air lines and possibly blockage to air in the brake system.
Glad-hands freeze together, which can result in overcompensation of force when pushing down or pulling up, damaging the air lines.

How to Avoid Winter Air Line Damage
To avoid damage to your truck or air brake system, it's important to prepare the air brake system for the winter. Most high-quality truck air brake systems have a working limit of -40 degrees Fahrenheit; however the best way to avoid your lines from freezing is to invest in not one, but two air dryers. Most air dryers are equipped with heaters to prevent freezing, but it's possible for air to leak past the purge valve and freeze causing a loss of air. It's a good idea to have two air dryers ready to go in the event one ends up freezing in the cold. You can check the condition of your air dryers by keeping track of how much water comes out from the wet tank when draining it.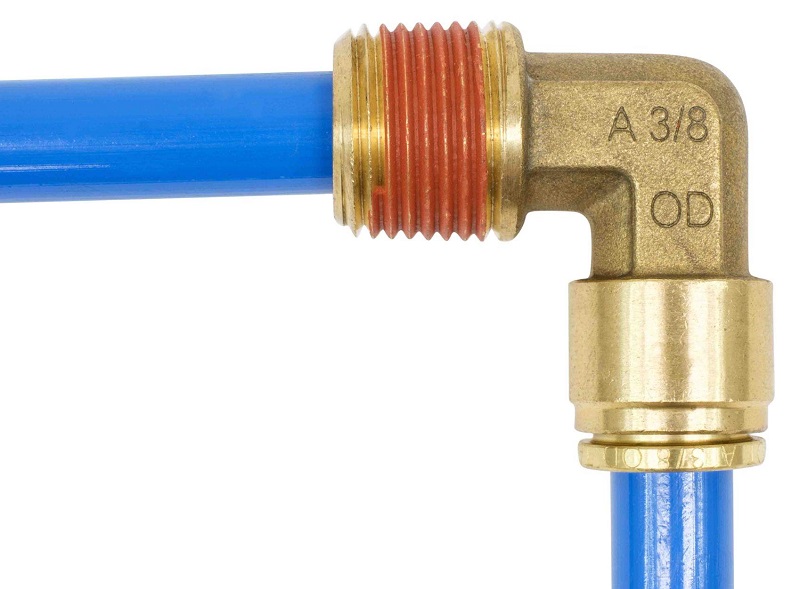 Preparing Your Truck or Semi for Cold Weather
Regularly Check for Moisture
The best way to prepare your air brake system for the cold weather is to regularly check them! Compressed air usually has water and compressor oil in it, which can freeze and cause brake failure if left unchecked. Water and oil will collect in the bottom of the air tank, so be sure to drain the tanks completely!
Maintain the Air Dryer (Double Up!)
When it comes to maintaining your air dryers, remember that it's best to replace air dryers when you find moisture inside. You need to replace the filter and electrical connections, as the air dryer collects and removes water and oil before they enter the air brake system where moisture can damage a semi truck's air lines. To ensure your air dryers are still working properly, do routine evaluations for checking for liquid in the air brake system; if you find any moisture, replace the air dryer with a new one.
Grease the Slack Adjusters
Regardless if your semi truck has manual or automatic slack adjusters, keep your slack adjusters lubricated regularly to ensure your air brake system is working to its best capacity!
Wash Your Truck Regularly
While not the first thing truckers may think about, it's an incredibly important step they can take to protect their trucks during the winter months: wash your truck often! Salt, ice, and snow can be hard on paint's finish and possibly rust the underside of your vehicle. Additionally, you could create a road hazard if a big chunk of ice or snow falls off the top of your truck and into the motorists and road behind you. Look into any car washes that offer steam cleaning and undercarriage cleaning specifically to clean areas affected most by snow and ice.
Stock Toolboxes with Air Line Fittings
Stock up on replacement parts and air brake hoses, coils, and repair kits! Hoses with cracks or holes should be replaced immediately and you don't want to risk being on the snowy road with damaged air brake system parts! Additionally, the DOT recommends getting air brake systems inspected every time you get your vehicle's oil changed. Here are some recommendations for truck air brake parts to have on hand:
Air Brake Coils and Hoses
Nylon air brake hoses are highly recommended, as the rubber tubing material is designed to be very durable and long-lasting! It's abrasion resistant, making it perfect when traveling through dirt, ice, snow, or debris. Nylon hoses are protected from most weather damage and protect you from any accidental shock during installation or repair.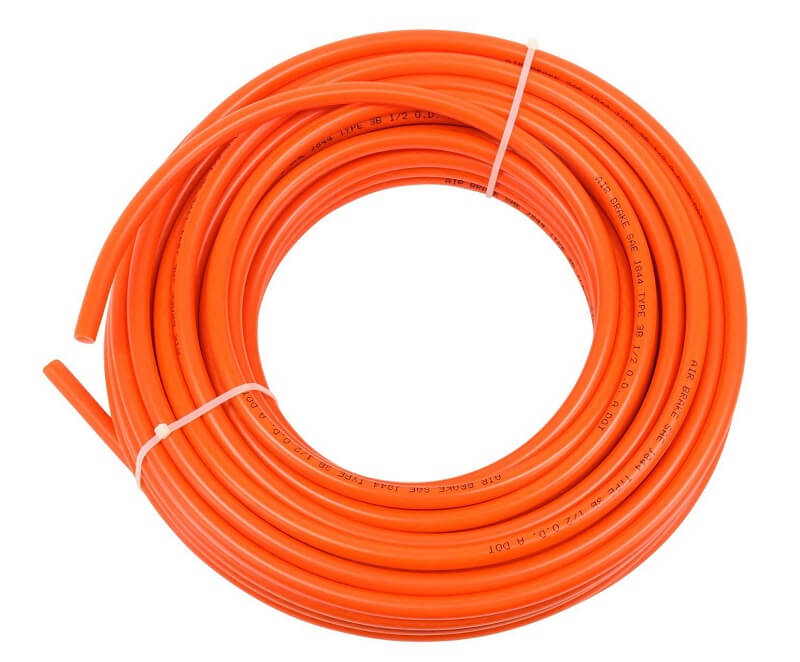 Assemblies
Air brake hose assemblies that are heavy-duty can withstand exposure to gasoline, diesel, oils, and other commonly used road-cleaning chemicals.
Brass Connection/Compression Kit
Industry standard, reliable, and flexible, brass connection kits are a must-have for all truckers that own a truck air brake system. Brass compression fittings are designed to withstand high heat because they are often so close to air compressors and engines, so you rarely have to worry about these truck air brake hose fittings becoming too hot to operate. There is some customization available with brass fittings, as brass can be molded into various shapes to ensure the perfect fit for your semi truck air lines.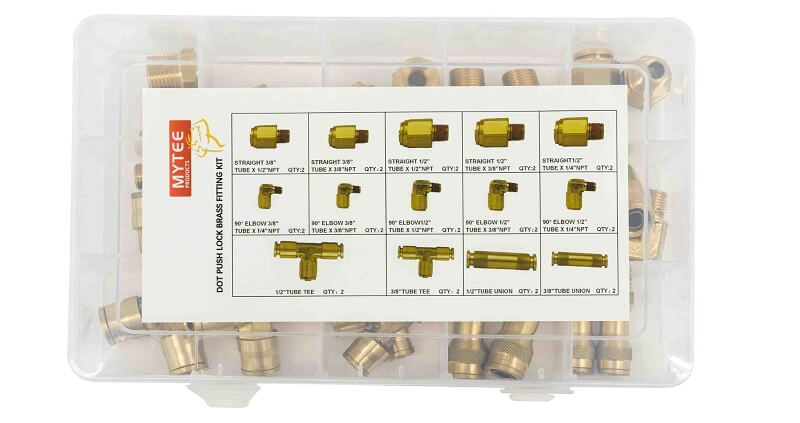 Repair Kits
Having a repair kit on-hand for all your important trucking tools is integral no matter the product, but ways to check and fix your air brakes should be one of the most important tools for truckers. It's best to either find or make repair kits that include replacement parts – such as brass connection fittings – sealant, truck air line fittings, and extra coils and hoses. Finding out your brake lines are worn or broken is stressful enough; you don't want to be caught in the middle of a haul without a way to safely continue the delivery for proper maintenance.
Keeping those colorful red and blue air lines connected to your semi-truck or flatbed safe and intact is integral for the safety of your brakes, and it's important to know these truck air brake systems can be sensitive to extremely cold weather conditions. Be sure you're continually checking for leaks or breakage in your brake lines and taking the proper precautions so you know how to prepare air brake systems for winter weather.