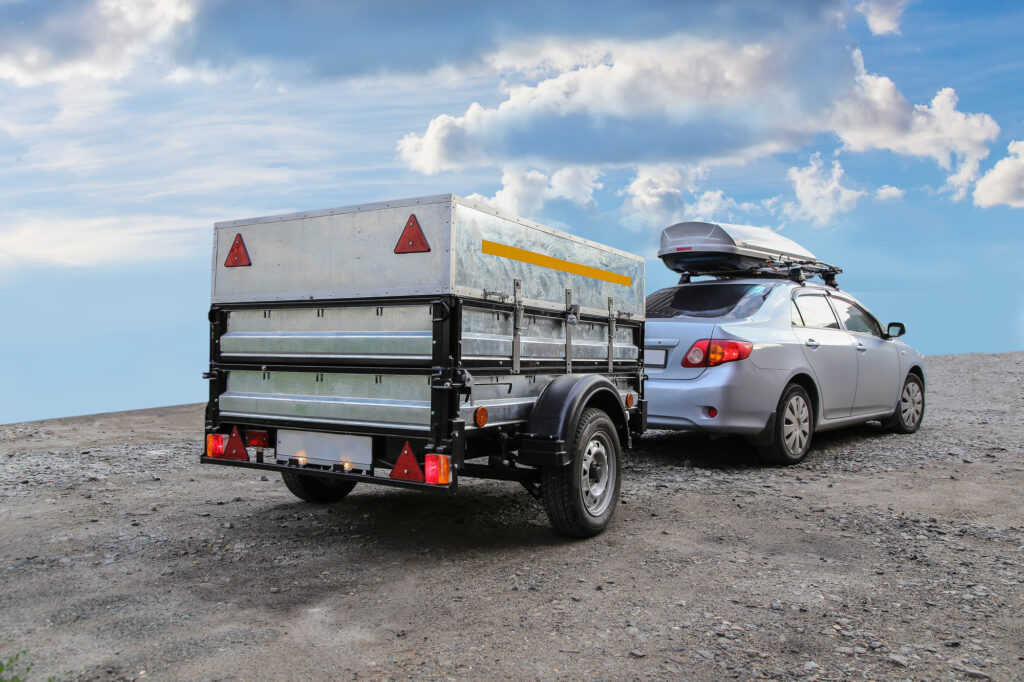 Trailers come in different shapes, types, and configurations. Depending on your needs, preferences, and budget, you could buy a new or used trailer. The market is flooded with many options for new and used trailers. However, this could make decision-making more complicated for novice buyers.
There are many distinct types of trailers, each designed for a certain function. The flatbed, boat, horse, teardrop, and dump trailer are just a few examples. Nevertheless, you're in the right place if you're wondering whether you should buy a new or old trailer. This guide will help you determine which option is best.   
Buying New Trailers
There's nothing like buying something brand new. It makes you feel like you truly 'own' something. Trailers are no exception.
You should purchase a new trailer directly from the manufacturer or a reputable dealer. Here are some pros and cons to consider when buying new trailers.
Pros
Fewer Breakdowns — New trailers usually don't come laden with issues. Although depreciation is inevitable over time, if you take care of the new trailer, you won't have to worry as much about costly repairs developing prematurely.
Newer Features – The great thing about buying new trailers is that they have upgraded features, parts, and appliances. This is particularly true if you're buying an RV trailer. These newer trailers typically come with more amenities as well.
Warranty – A warranty is typically included when you purchase a new trailer from a reputable manufacturer. If something breaks, you may get it fixed or perhaps receive a replacement trailer at no cost to you from the manufacturer.
Cons
Generally Expensive – You should prepare to pay a little bit more for a new trailer. The type of trailer you purchase will impact the price. New ones are typically more expensive. However, they could be easier and less costly to maintain compared to used trailers.
Could Be A Lemon – There's a chance that the trailer you purchase can have structural or design issues. This could be problematic in the future because it'll necessitate costly repairs. Even if a trailer has a warranty, it may be inconvenient if it keeps breaking down.
In general, you won't have maintenance issues with newer trailers at the onset. If you have the money, purchasing a new trailer is much preferable. Yet you should consider other options if you have a limited budget.
Buying Used Trailers
Here are some pros and cons of buying used trailers over new ones.
Pros
Affordable – One of the most significant advantages of purchasing used trailers is their low cost. New trailers will not remain new indefinitely. They'll depreciate and lose value in the market.
The price of a used trailer will vary depending on several variables. Nonetheless, the latter is far more affordable when comparing new and used trailers in the same category.
Environmentally Friendly – Buying used trailers prevents a good trailer from ending up in the scrapyard. It's preferable to keep some used trailers on the road in order to conserve resources that manufacturers would otherwise utilize to manufacture new trailers.
Cons
Questionable Reliability – When purchasing a used trailer, there's always the possibility of getting a defective product. Yet even if the trailer passes inspection, it'll probably develop problems sooner than a new trailer because it has traveled more miles.
Moreover, when purchasing a used trailer, you have no idea how the previous owner used it. You don't know the problems the trailer is hiding because service records may not reveal this information. As a result, reliability may be a concern.
Lack Of Warranty – Used trailers typically don't come with a warranty. In most cases, warranties can't be transferred. As a result, all repairs must be paid for out of your pocket.
Short Lifespan – When purchasing a used trailer, its lifespan may be shorter. The trailer's lifespan will be reduced or extended depending on the trailer's age and maintenance.
Used trailers have been on the road for a long time, so there are many more factors to consider. If you're not vigilant, there's a danger you can fall for a scam. Therefore, you should take the following factors into account before purchasing and using a trailer:
Trailer Age – Verify the trailer's age. An older trailer is more likely to have more problems. But, if the previous owners took good care of the trailer, it's also possible that it's still in fine condition despite its age.
Record Of Ownership – Knowing the trailer's title is crucial. Check with the seller to see if the trailer is registered in their name and get information about the previous owners. You want to avoid a situation where you purchase a stolen trailer. And you ought to request service records from the seller for future reference.
Inspections – There's a strong or decent probability that the trailer's former owner(s) made modifications. You should hire experts to inspect a trailer to ensure everything is in working order before purchasing it. They can check whether the wiring, welding, and vents are in check. The trailer's structural integrity will be evaluated, which is critical.
Condition Of Floor – Before making a purchase, you must check the condition of the trailer's floor. Make sure the product you buy doesn't have a floor that'll give way under the weight of your loads.
Compatibility – Don't rush into purchasing a used trailer, even though it may be enticing. Verify the compatibility of the trailer with your car first. You certainly don't want a situation where you buy something you can't use. Hence, check to see if it's compatible first.
Even though you can buy used trailers from dealerships, it's best to buy them from a trusted person. It could be a friend, relative, or business associate. But there are reputable dealerships you can use as well. Nevertheless, you must confirm their reputation before engaging to avoid being scammed.
Other Important Tips For Buying New Or Used Trailers
Keep the following additional tips when purchasing new or pre-owned trailers:
Know Your Budget
Your purchasing decisions should be based on your budget, particularly if you're a small business owner. You shouldn't break the bank even if purchasing a brand-new trailer is ideal. Instead, you ought to give yourself a price ceiling. Then, seek trailers in that price range. 
Do Research
You must know what you want, where to get it, how to buy it, and whether you can afford it. That's why research is essential. Internet searches are the best starting point. Additionally, you should seek the counsel of references familiar with trailers for any assistance on a relevant matter.
Don't Forget Hidden Costs
It's crucial to remember that the advertised price and the price you pay for a trailer may differ. The listed prices don't always include dealer fees, warranties, add-ons, discounts, and other financial charges.
As a result, you may wind up paying more or less than what is advertised. That's why, before committing to a purchase, you should discuss with a dealership how much you'll pay. Be bold and ask a prospective dealership for a complete financial breakdown.
Conclusion
Your budget and preferences will largely determine whether you order new or secondhand trailers. Both options have advantages and disadvantages. However, before purchasing secondhand trailers, you must consider several factors, some of which have been mentioned above. And make sure the trailer is in reasonable shape by conducting inspections.