After the first official pics being released in February of this year, Golf have now put the Convertible Golf into production. There has not been a drop-top golf since 2002 when the MK3 had its roof cut off. Keeping up with technology, VW has eradicated the roll over bar which can be seen in the previous convertible models. This has been replaced with the automatic rollover 'popup' system which deploys in milliseconds. The removal of this basket handle looking bar has only done awesome things for the overall look of the car.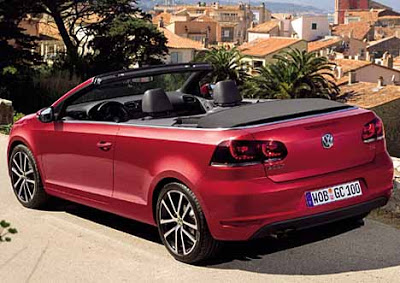 Awesome lines and looks…
The roof can be opened and closed at speeds of around 30km/h and it will be fully open or closed in approximately 9 seconds. So what is under the hood? The Golf Cabrio will be available with four TSI engines ranging from 1.2 to 2.0 litres and two TDI engines of which one is a 1.6 that produces a very respectable 104bhp. I really like the look of this car but as most convertibles are, they tend to look very feminine and in this case this still applies…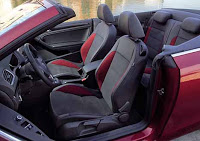 High quality interior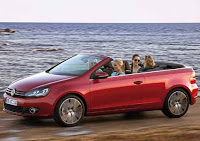 Looks like fun hmmmm?