It seems the FIA are set to completely ruin this sport. There are new limitations every year and we all know how they have already planned to reduce the
size of the engines in 2014.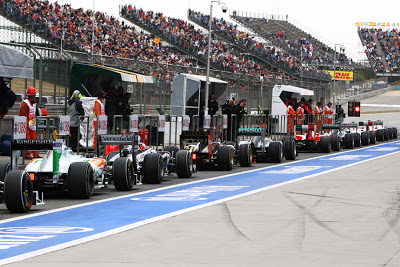 They have now published a further modification to the regulations which now includes the necessity for the cars to run entirely on electric power for the whole time they are in the pit lane. Taken straight out of the technical regulations, it states that "The car must be run in electric mode (no ignition and no fuel supply to the engine) at all times when being driven in the pit lane". This means saying bye bye to the awesome scream of the engine as they sit on the pit-lane rev limiter. These new rules come into play in 2014 too. This mandate ALSO includes the rule where the F1 car has to have an on-board ignition and not external starter motors. When is it going to stop? I can say without a doubt in my mind that Formula 1 could very soon be full electric and that will be a VERY sad day.