So you are probably thinking that this cannot be true and that it will never work? Well I can assure you, it is true and judging by the looks and sounds of things, it works… well! It recently made its first showcase at the Goodwood Festival of Speed and even competed in the hill-climb. Click read more for the full article.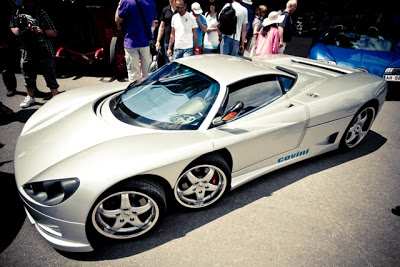 Ok so I have to admit that the car does look very odd initially but has grown on me hugely. The 4 steering wheels upfront are very unique and provide a fresh new look for a fresh new supercar company. The company responsible for this is
Genius Car Ltd
who are partners with Covini Engineering. The Covini C3A recently became the first 6 wheeler to receive the highly sought after invitation to Goodwood. The entire weekend people kept on asking why? Why 6 wheels? Well the main advantage of the front wheels are less risk for front tyre deflating, less risk of aquaplaning, better braking, better grip, better comfort and better absorbing of frontal impact. In race track terms, this offers much higher cornering speeds and deeper braking into the corners.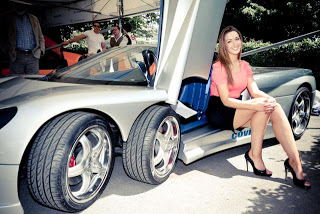 Covini C3A attracted a lot of attention at Goodwood Festival of Speed 2011
The additional set of front wheels do not only offer performance enhancements but further improve the safety of the car for the following two reasons; there is a bigger 'crumple zone' in an impact and if one were to suffer a blow-out at high speed, the car will not lose control. The extremely unique supercar is powered by a Audi 4.2litre V8 that manages to produce nearly 500bhp. It has also travelled the road of weight saving and because of its tubular steel frames and lightweight carbon fibre body, the Covini comes in at 1150kg. This will allow the powerhouse to reach speeds in excess of 300km/h. Zero to 100km/h in a very serious 3.4seconds. This is clearly in the supercar territory.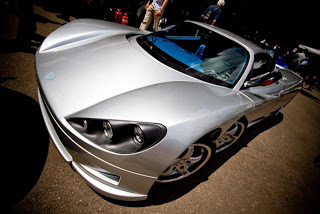 Could we perhaps be seeing a revolution of supercar development or is this just a one off thing for Covini? We will have to wait and see how the competitors respond to this innovation. Watch the video at the bottom to see the C3A in action, there is even a bit of tail happy action.
I am impressed with this machine and I think the motoring world will adapt and warm to it slowly.