Recently Jay Leno took delivery of his fantastic new 2012 McLaren MP4-12C. This is not something new for him as he has one of the most sought-after car collections in the world. Sometimes Mr. Leno feels he needs to discuss his buying process with us and share to with the world how the manufacturer conducts themselves especially when selling their flagship model. Click read more to read what Leno had to say about McLaren.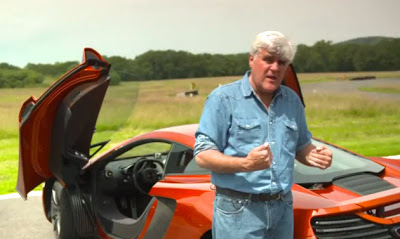 Leno stated that buying an exotic car can be a very annoying process where sales people try and get you to fully spec the car which is not actually always desirable. He said McLaren is the complete opposite. He stated that he simply called McLaren office, chose his options and Bob's your uncle. The sales person on the phone even mentioned to him that he doesn't need the carbon ceramic brakes if he wont be doing any tracking because the standard steel brakes are cheaper, lighter and effective enough. They also informed Leno that the carbon fiber panels inside the car were only for decorative purposes and offer no weight savings.
Seems like Mr Jay Leno is just as much in love with the car as he is with the operations at McLaren. I think its safe to say that we will see this beautiful supercar parked right next to his McLaren F1 in his slightly oversized garage.