The latest guest post offering is done by journalist Marius Roberts who is the presenter on IgnitionTV and was lucky enough to take the very first Lamborghini Aventador in South Africa on the track.
So I am often told that I have a dream job but I think that title belongs to the President & CEO of Automobili Lamborghini, Stephan Winkelmann, who we had the privilege of meeting when he was in SA last week for the launch of the much publicized and highly anticipated Lamborghini Aventador! Seeing that look on his face as Lamborghini's flagship model was unveiled makes you realize just how special the Aventador is – 4 years in the making and still he is stirred when seeing it, like a proud dad with his first born! We have all seen the pictures and can all rattle off the insane performance figures but nothing quite prepares you for Aventador in the flesh – it is extreme, uncompromising and most definitely Italian – and that's before you flip back the missile launch inspired cover to push the start button & fire that 6.5l V12 to life! Click read more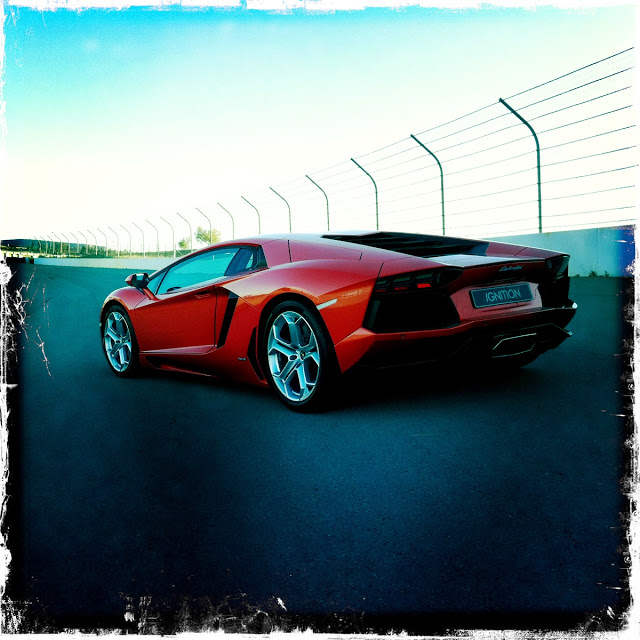 Fast forward to 05:45 on Wednesday morning – a truck pulls into Phakisa Racetrack transporting a R5.7 million bullion of carbon fibre – 1 of only 6 Aventador's coming to South Africa. This is the first time this most courageous bull of all will get to charge on our soil and I have been given the massive privilege of putting it through its paces.
The truck door opens & there he is – a caged beast but not for long…my hands get clammy…this is it.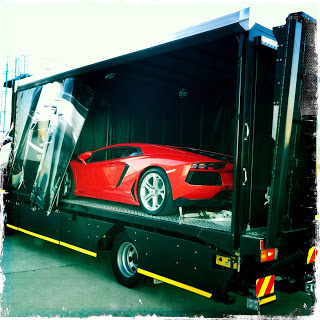 I swing open the scissor door, a feature of V12 Lamborghini's that just adds to the drama of it all, and slide into the saddle. Unlike the Merc SLS, these doors CAN actually be closed when seated! It's a surprisingly comfortable place and possibly this is where the Audi ownership is best displayed – everything is somehow familiar, in the right place – making it welcoming instead of intimidating! I notice a LCD display screen for navigation and stereo, a reverse camera and a button to raise the front suspension 40mm for handling the speed bumps – has Lamborghini gone all soft on us? Not at all – my view is that the demands of even the supercar consumer has changed, they want extreme performance but they also want creature comforts and the Lamborghini's created today are no longer collectors pieces sitting in garages but are capable of being experienced and enjoyed everyday!
But you not reading this to hear my views on interiors and consumer needs – lets talk extreme, uncompromising performance!
515kw – 690NM – 1575kg – 350km/h – 0-100 = 2.9s
Its those figures and the technology used to achieve them that give Stephan Winkelmann the confidence to declare the Aventador a 2 generation jump compared to what is out there currently. I fire up the start button and the cockpit is filled with the unmistakable whine of a Lamborghini V12. This is only their 2nd V12 ever made and it is perfectly positioned at ear level to ensure eargasms are on tap. There are 3 modes to select– STRADA, SPORT, CORSA. STRADA is for the everyday drive around town so the suspension is more compliant and forgiving, steering is lighter and the traction and driver aids are set to max. SPORT allows you to get the most out of the Aventador but still maintains a level of safety with traction and driver aids allowing you to push to the edge before stepping in to assist! CORSA is just you and the machine – no driver aids, no traction or stability control!
We select sport, after all there is added pressure to hand the ONLY Aventador in SA back with all 4 wheels still attached & pointing in the right direction. Speaking of tyres, the Aventador is Pirelli shod and with 335's on the rear I know we have a massive amount of rubber working hard to keep this raging bull pointed where I want it.
Lamborghini have developed their own single clutch 7 speed automated manual ISR gearbox for the Aventador, ISR standing for Independent Shifting Rod which basically means that when one rod has moved out of a gear the 2nd rod has already shifted onto the next gear allowing lightning fast gear changes of 50milliseconds. I must admit I was a little skeptical about a single clutch when others are all going the double clutch route but in the world of super cars, weight is everything and their gearbox weighs just 79kg so on paper it makes sense but how will it transfer into the driving experience?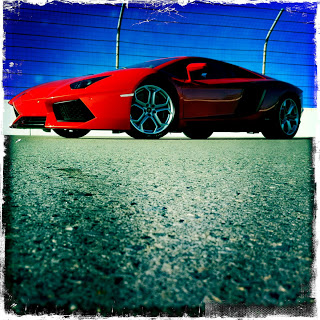 Leaving the pits in auto, you realize immediately that you are not going to get those seamless changes DSG boxes are known for and that is not a bad thing as there is no sense of occasion or emotion when shifting in a DSG box. They are fantastic when cruising in traffic in your luxurious sedan but an Aventador is about emotion and being totally engaged in the driving experience. The gear shift in auto is nowhere near as delayed as what we experienced in the Aston Martin Vantage S and if we consider easing our way out onto the circuit as our 'driving in traffic' simulation, the Aventador is going to be pleasant enough pottering around town!
But there is no traffic today just a smooth, empty stretch of tarmac waiting to be carved up…so with the push of a button I disengaged autopilot and get ready for the onslaught. Having raced at Phakisa 2 weeks earlier, my appreciation of this fantastic drivers circuit was front of mind as I started winding the Aventador up. The thing that right up front hits you in the gut, literally, is the level of grip – its immense! Borrowing from F1 technology, the Aventador uses a pushrod suspension with the horizontally positioned shocks easily seen when looking through the rear louvered window of the engine bay. The Lamborghini hierarchy of needs has changed Stephan Winkelmann told me, from a time where key factors were performance, speed and handling in that order, to their new approach where handling dominates over performance and speed, and the more I started exploring the limits of grip, the more impressed I was with what they have achieved with Aventador! Its turn in is so good, direction changes so dynamic that you feel you are manipulating a much smaller machine! Being AWD, understeer is present when carrying too much speed into a corner but it's how quickly I could dial that out and get the nose turned in again that always made me feel I was in charge of this rocket ship.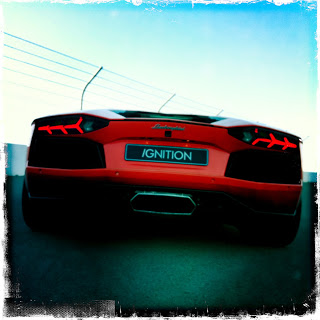 Of course the performance is still there – if you forget or you not sure just apply some right foot and the shove is fantastic! It was crazy looking down at the speedo display at the braking point at the end of the 400m back straight to discover we had blown past the 220km/h mark – that is immense acceleration considering we exited the tricky double right (Uncini 1 & Uncini 2) onto the back in 4th gear!
Anybody who has been around Phakisa will tell you about the nasty bump under braking going into the 2nd right-hander (after Dunlop) before you get to The Boot. Your approach to this corner is fast and as you crest the small rise the track drops off to the left before you have to negotiate the 3rd gear right hander – you understand then that there is a lot going on dynamically at this point! The rear unweights as you crest and drop left, you heavy under brakes and then you have to get your projectile turned in right – throw a bump into the equation at that precise moment that physics is having a HUGE debate with your car and it's a recipe for disaster! Well I could not believe just how sure footed the Aventador was through here – really confidence inspiring! There is much talk about the use of carbon fibre and Lamborghini is not the first one to use this strong, lightweight gift to supercars but what sets the Aventador apart from the McLaren MP4-12C for example is that Lamborghini use 1 piece of carbon fibre to create their monocoque, instead of the tub and top being created from 2 pieces and then glued together. This gives the Aventador unbelievable rigidity and torsional stability – and in that one section of the circuit I got to fully appreciate this and how impressive the car is!
The Aventador the fastest car Lamborghini has produced reaching 350km/h but lets be totally honest, that is going to remain for the most part unattainable – so much for focusing on handling over performance and speed!!!! But I think the racetrack showcases it best because its not about 0-100 or top speed but about the combination of it all, joining the dots so to speak – about being able to deliver the chart topping performance into a thrilling, engaging and emotional driving experience from corner to corner and the Aventador did that lap after lap!
To put this all in perspective, the Aventador arrived at the circuit with only 1800km on the clock, on standard rubber and was able to run a 1:52 around Phakisa – the full race spec Ferrari F430 Challenge Stradale driven by
Nic Chapman
in the Altech Challenge clocked a best time of 1:43! The Aventador has so much to live up to – the legacy, the name and public expectation but Lamborghini literally have taken the Bull by the horns with this one and created a benchmark….
The Aventador is the poster car of poster cars…every boys wildest dreams a reality! Check out the video clip from the actual shoot here.