So is it time to get some new tyres and do not feel like going all the way to your local tyre fitment dealer to select your tyre only to find out that they do not have in stock? Well, why not have a look at buying tyres online? Most online dealers have a extensive range of tyres to suit your particular vehicle and make the process of finding the best deal much easier. Anything from a passenger car to a truck and even tractor and agricultural tyres.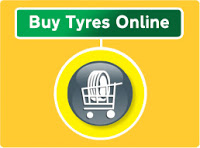 If you are like a majority of the people out there and think the numbers on the side of your tyres are hieroglyphics then do not panic. Online tyre stores have the perfect little tools which take you through each step in selecting the correct tyre for your precious wheels. If this is not successful, one can always choose their particular car and the store will advise you of the standard sizes and other options available to you. A large benefit of tyre shopping online is the subscription to the product line specials. You will receive an email explaining all the various specials and if its time to look for a new tyre well then you are in luck.
Obviously there will be the people who still like to go to the dealer, select the tyres and watch them being fitted but for the up and coming world wide generation, this just might be the way.