Mansory Lamborghini Aventador
I was hoping they were not going to tamper with the most beautiful Lamborghini ever made, but once again I was proved wrong! Just unveiled at Geneva Motor Show is the Mansory package for the Aventador. Basically covered in Carbon Fibre and once again WAY WAY over the top. The eye-catching or most disturbing part of the package is the size of the inlet ducts on the front of the car as well as the wings on the front. The wheels actually look seriously hardcore but that is where it ends for me. Mansory have done what they do best… Take a car to the extreme and although this does look very aggressive, I would never in a million years opt for this package on an Aventador.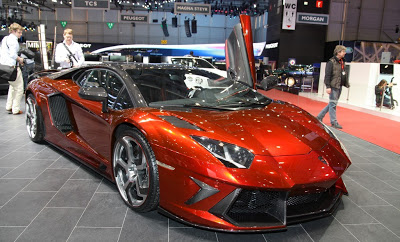 This being said, the performance is something special. With the horses being bumped up to 740 and the 0 to 100 time being 2.8seconds this must be one hell of ride!