This is the most excited I've been for a Grand Prix in a
long time. After an absolute ripper of a race in China last weekend, I don't think
I'm the only one either. Last weekend's race proved that F1 is still an
exciting sport; let's hope Bahrain can bring us the same.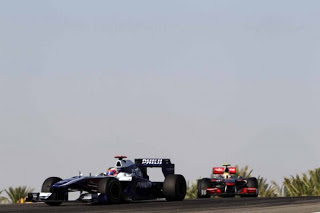 The Bahrain International Circuit is a reasonably straight
track with a lot of long, swooping corners and really only one hard breaking
point, that being turn 1. So, like last weekend, straight line speed will be
crucial. There will be, to my disappointment, only one DRS zone in Bahrain. It will
be on the pit straight going into the hardest breaking point on the
circuit. Drivers will be losing 250kph
in less than 100 metres, pressing down on the brake pedal with more than 150kgs
of force and be exposed to over 5G under braking, so expect a few exciting
overtaking manoeuvres. The weather isn't clear but there is no rain expected,
after all Bahrain's annual rainfallA is 70mm. There has been rainfall at some point
in all three races so far, but that is sure to come to an end this weekend.
My Prediction
Bahrain International Circuit, as I've already said, is a
track where straight line speed is the most important thing to have in your
arsenal. The Mercedes' and McLarens' have proved that they are the teams to
beat down the straights. However, another important thing to consider,
especially in Bahrain, is the ever changing surface of the track. I don't mean
the tarmac itself; I mean the sand that will be spread over the track. This will
affect tyre wear immensely, so strategy will be very important. In my opinion,
a 2 stop strategy in Bahrain isn't the best way to go. With the medium and soft
tyre compounds being used, I think teams will be looking at a 3 stop strategy.
Here's my podium:
1.Lewis Hamilton (from pole)
2.Michael Schumacher
3.Nico Rosberg

I've chosen Hamilton to win from pole because he has been
the most consistent driver so far, being the only driver to have finished on
the podium in all three races. He has the car to do it; all he needs now is a
bit of luck. Schumacher in second was a big call. He has shown us that he is
capable of a podium finish, but he just can't seem to finish a race, and when
he does, he's way off the pace. However, after his teammate's spectacular win
last weekend, he'll want to get in on the action and bring his team some
points. He also has the car to do it, all he needs to do is stay calm and drive
smoothly. Rosberg in third is also a tough call, because after his win last weekend
he is brimmed with confidence so putting him in third may seem a bit harsh.
Nevertheless, third is a good finish and I think he will have a strong race.
The most important thing to notice is that the weekend, I think, will be
dominated by the Mercedes'. The F-duct on their rear wings, which has been cleared
by the FIA this week, is proving to be very effective. They have always had
good straight line speed, but with that F-duct, the car is so much more stable
under braking and at top speed.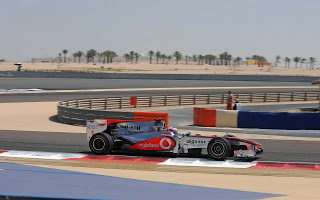 That's my prediction, if you have any questions about an
F-duct or just want to give me your predictions, follow me on Twitter or just
leave a comment below. See you on Monday for my post-race wrap up.
@guygrove