Dubbed "the most elegant four-door sports car in the world, the Kahn Aston Martin Rapide is incredibly civilised, but tremendously capable. The moment this car was announced there has been an inherent correctness about the idea of a four-seat, four-door Aston Martin based on the already excellent VH platform. Click read more…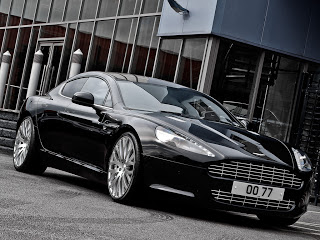 And in the metal the Onyx Black Kahn Rapide does not disappoint. The fundamental proportions are breathtakingly elegant. When people see this car they tend to smile and point towards the exceptional styling package, consisting of a front bumper grille mesh in matte black, bonnet vents in billet, black brake calipers, side vent grilles in matte black, sports exhaust and privacy glass. >And thanks to a lowered suspension system the Kahn Aston Martin Rapide is given a platform to provide an outstandingly supple ride.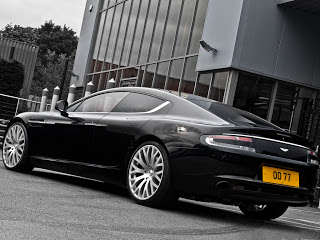 For a car that's more than five metres long it feels nimble and compact when you're driving. The way in which it gathers momentum so smoothly from 3000-4000rpm in the higher gears is testimony to the strong, even flow of torque that's available; rarely does it seem necessary to venture much beyond this point in the rev range.
But when you do, another side of the Rapide's personality is revealed. Between 5000rpm and the red line it becomes an altogether more aggressive, more responsive machine, emitting a fairly magnificent V12 sound from its previously subdued engine bay. Inside is the 'bespoke touch', this particular vehicle comes with an exquisite alcantara sport steering wheel and instrument binnacle. The Rapide's familiar mix of soft English leathers and bare-metal switches complements the interior.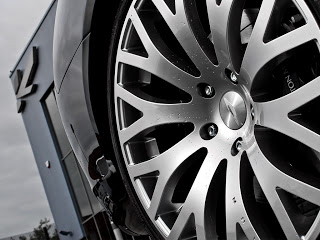 However, we always provide our customers with what they want. And Afzal Kahn could, for example, design for you a vehicle with an exterior the colour of your jeans and an interior with seats akin to the shade of, let's say, a grey t-shirt. Customers could also change the colour of the clock, in fact, we can transform the interior of any vehicle into an executive stateroom. >Kahn wheels sit perfectly, on any vehicle, conveying the essence of the vehicle's identity. Created using state-of-the art manufacturing and materials technology, the Kahn 21" RSX-F wheels in platinum silver finish and fit all original centre caps. With simple clean lines, soft organic surfaces on the edge of the spoke and a purposeful mechanical centre, the RSX-F wheels are synonymous with elegance and innovation.