My love for automobiles has increased tenfold ever since I subscribed to DIRECTV through Directstartv.com. Nascar HotPass is awesome, but I have really enjoyed watching the Speed Channel –
most notably My Classic Car.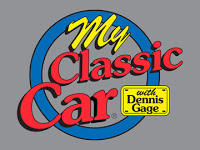 My Classic Car is a great show for vintage car collectors, or really anyone fascinated by antique cars.
Hosted by the enthusiastic, handlebar-mustached Dennis Gage, the 30-minute show showcases various classic automobiles shows and collections around the United States, Canada and the United Kingdom.
The show often features celebrities and high-profile collectors. One episode I recently watched featured
late night talk show host Jay Leno, who apparently has quite the affinity for classic cars. Leno owns a
Tatra T87 and Lamborghini Miura, both of which he and Dennis get to take a spin in.

The key to any great show is the host, and Dennis Gage is as good a host as there is. Standing 5-foot-
10 and weighing no more than 150 pounds, you probably wouldn't expect Gage to be the star of a
television show. His white handle bar mustache, which he describes as a leftover remnant from a ZZ
Top beard he donned back in his college years, makes him look more like a bare knuckle boxer than an
antique car lover. Additionally, his scholastic credentials are more suited for a career in astrophysics
than television; He has a Ph.D. in chemistry and helped create several popular products, including
Pringles potato chips and Boost energy drink. Nonetheless, Gage has been the center of vintage auto
universe since he became the host of My Classic Car more than 15 years ago. He ends each show
with the catchphrase "Honor the timeless classics," which has become as enduring as the cars he has
dedicated his life to.
If you enjoy the allure of vintage automobiles, make sure you tune in to My Classic Car on the Speed
Channel when you get a chance. There's a new episode every week.