Do you need an executive car that's stylish and loaded with spec? If you do, I reckon you should look at what Volkswagen's Passat model has to offer. While there's no shortage to the range of executive cars you can choose from – including both VW vehicles and those from rival brands – I think you'll be on to a winner if you select the Passat.
In fact, this part of the Volkswagen range has been immensely popular ever since the first-generation vehicles came out on to the market in the 1970s. Of course, a number of different Passat models have been released since that time – and they have often made a range of improvements from their predecessor – so you will have plenty of scope to find one.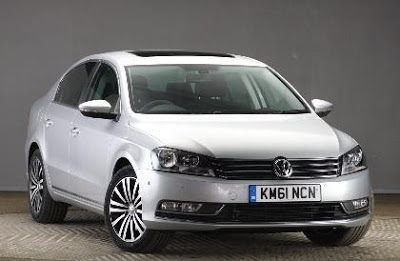 Whether you're going to visit a VW used car auction in search of a Passat or will turn to the classifieds section of your local newspaper, seeking out one of these cars means you will have something that not only looks great but is wonderful to drive and is extremely reliable. It has won a string of awards over the years, including being voted the best new company car of 2011 by Fleet News, so whichever model you choose you can be confident of getting behind the wheel of a truly amazing vehicle.
Here's a closer look at some of the models you can pick from (click read more):
As the 2.0 TDI is one of the most powerful cars in the SE trim range, it is a great choice if you want plenty of performance. Whether you choose the automatic or manual transmission model, you can reach a top speed of 131 mph when driving this car, though – of course – you should always stick rigidly to the speed limits of wherever you are driving.
There is much more to the vehicle than pure power, as it comes with 17-inch alloy wheels, cruise control and a DAB digital radio as standard. It also features flat tyre indicators – something I'm sure you'll find to be useful in the event you have a puncture while travelling at speed – and power-assisted steering, with both automatic and manual transmission models available.
1.4 TSI S
The 2.0 TDI SE certainly is a great car to drive, but its powerful engine and array of features means you can expect to pay a relatively high sum for one, even if you buy one at auction. If you're hoping to get a Passat on a fairly tight budget, I advise that you should opt for the 1.4 TSI S instead.
Admittedly, this doesn't have as a powerful engine as its higher-spec cousin but, with an eight-speaker stereo system, 16-inch alloys and a heated rear window as standard, it offers more than enough for those seeking a luxury, high-performance executive car.
2.0 TDI Sport 170PS
Although I don't think you'll fail to get a great vehicle whichever VW Passat you buy, if you want something that's really fantastic there's little that can match the 2.0 TDI Sport.
Powered by a 2l engine, this stunning vehicle has 17in alloy wheels, a DAB radio and touchscreen navigation system. If you feel the need for speed, you'll be glad to know the automatic transmission version goes up to 137 mph, although its petrol counterpart is a touch quicker as it can reach 139 mph.
Are you thinking of getting an executive car? If you are, please leave us a comment and let us know what model you want!