BMW as a brand is frequently associated with some of the world's best executive cars – and the models in the 5 Series range are no exception. But what exactly is it that makes these vehicles stand out from the competition?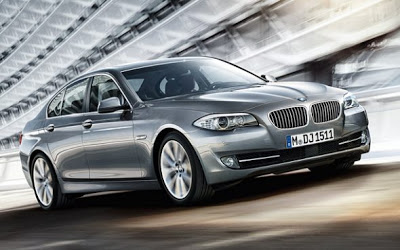 It's a combination of factors, from appearance and performance to the host of extras you can add to the standard configuration. If you're curious to find out why these autos are often classed among the top executive options on the market and why a BMW 5 Series leasing deal could be right for you, read on.
Luxury and comfort
Any high-end executive car worth its salt should ooze class and be very comfortable to drive. One look at any of the BMW 5 Series models and you'll know the exterior appearance ticks all the boxes, with its sleek lines characteristic of so many of the German automaker's cars.
From a driver's point of view, the experience of being behind the wheel is more important, especially if you'll have to do long journeys. Among the features you can find in a 5 Series are air conditioning, electric windows, multi-function controls on the steering wheel, Dakota leather seats and two 12V power sockets.
There are also a host of options you can use to make the driving experience even more pleasurable, including installing massage seats, heated rear seats and TV screens in the back of the front seat headrests to provide entertainment to any passengers in the rear of your car.
Performance
Of course, all of that luxury won't keep you happy if your high-end car can't perform on the roads. Going through a list of all the technical specifications shared by BMW 5 Series models would take a while, so we've picked out some of the highlights.
To give you an idea of what to expect, Top Gear gave the 5 Series nine out of ten for performance and eight out of ten for handling, describing the ride as "really excellent, both over big stuff and the sharp little zits that often upset 'sporty' saloons".
For example, the 5 Series Saloon 520d EfficientDynamics model is equipped with a four-cylinder inline diesel engine with four-valve technology and a six-speed manual transmission. It can do zero to 62 mph in 8.2 seconds and, as this version is one of BMW's more environmentally-friendly options, it even offers reasonable fuel consumption – 62.8 mpg combined.
Reliability
You may not think that reliability is the mark of a top executive car, but just imagine how frustrating it would be to have a high-end auto that won't go anywhere, or that leaves you in the lurch en route to an important business meeting? You certainly won't make the same impression if you arrive with your car on the back of a pick-up truck as you would if you rolled up in your 5 Series under your own steam.
BMW has developed an excellent reputation for the reliability of its motors, whether they're at the luxury end of its range or are more affordable cars. The vehicles in the 5 Series range are no different, so you can have confidence in the performance of everything from the engine to the tyres.


If you drive a BMW 5 Series, what would you say are its best qualities? Would you rate it as one of the world's top executive cars?