When you think of a Cadillac you think of a smooth riding vehicle with great performance, luxuries and that handsome design. When you think of the Chevy Volt you think of electric, fun, something new and innovative—best of all efficient. Now what if you combined these two? What you get is what General Motors and Cadillac is calling their ELR model.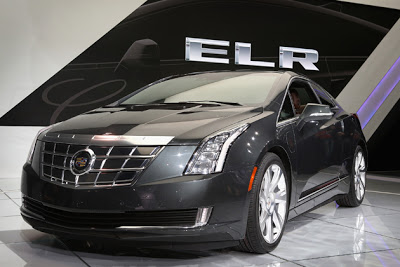 With how popular the Chevy Volt electric vehicle was in North America, the people at GM are hoping to take that success and interest in the electric technology and spin it onto an unlikely market, Cadillac. You may ask yourself how can you take a brand like Cadillac and integrate the components of a modest Volt into it? To utilize this new engine component, one would imagine that they would need to design a bit more light weight vehicle, that is also a bit more aerodynamic than the squared look we generally see with the Cadillac models of years past. It is hard to imagine that they would eliminate some of the basic design cues that make a Cadillac stand out, because it took them generations in order to obtain that brand identity.

So what kind of changes might we expect from the Cadillac designs that we have grown accustomed to? The only real changes we might recognize really is the interior design, where we can expect some new interface and instrumental displays, maybe a bit more engaging and innovative in terms of technology. On the outside General Motors claims that they are looking to give the ELR a very aerodynamic styling, with a forward lean for the body. It would also be safet to assume that the stature of this ERL model will be a bit more compact than what we are use to with the larger than life Cadillac. GM also made it clear that the changes that they do intend for Cadillac could optimistically be the standard in which other future models are molded around. So it will be interesting to see the future direction of not just Cadillac's engine and performance specifications, but also their intentions for designs.
When might we expect to see the first of these models in showrooms across North America? Well in their statement, GM expects the production of the new Cadillac ELR models to be in partial production by end of this year, and we could be seeing them hit select showrooms by early next year. They also intend to introduce the model to the European and Asian markets, to see how successful they might be there.
Outside of the electric components that help drive this vehicle forward, and provide it with remarkable fuel-economy, it is the protection of that electric generator that is most amazing. With an eight year warranty on their electric generator and battery, this Cadillac, much like the Volt has put a clear statement out there that this technology can and should be trusted. A eight year warranty on any car part is a surprisingly high level of protection, that most in the automotive industry don't dare to try. Even with gas powered engines, who have been worked on for generations to achieve their current performance. For those of you who are curious about the electric Chevy Volt, you can learn a bit more by checking out a Volt at your local dealer, or reading it on their site like Herb Connolly Chevy Dealer of Boston.