Video: Hennessey Venom GT Sets 13.63 Second 300km/h Record
So the Agera R has been beaten. I didn't think it would be beaten so quickly but trust Hennessey to be the ones to do so. The Hennessey Venom GT is the quickest production car from 0 to 300km/h. Two runs averaged to 13.63 seconds quite easily beats the Koenigsegg Agera R's time of 14.53. Twin turbocharged V8 producing 1200 hp gives the car insane power-to-weight ratio.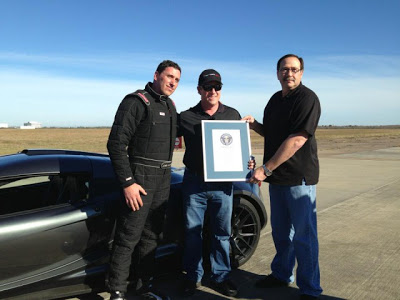 Despite claiming the world record, Hennessey are already looking forward to the Venom GT2. The engine will be upgraded to produce over 1500hp and a new seven-speed paddle shift transmission will be fitted. It is expected to debut late this year and limited to only 7 units. If you want one I hope you have $1.25million lying around?