Realistically with Valentines Day passing you would never consider buying someone a brand new Jeep, but sometimes the simple jewelery, flowers or chocolates may become quite cliché and boring for some. So what can you get a Jeep enthusiast for a gift, let it be Valentines, Birthday, or just for the heck of it? Well we compiled this list of Jeep branded gifts that your significant other will enjoy and appreciate.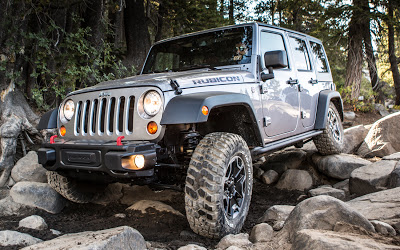 1. Vintage Classic Full-Zip Hooded Sweatshirt – So he or she is a huge Jeep fan, they literally would sleep in their Jeep if you allowed them to do so, so why not buy them something that fits comfortably, like a Hooded Jeep Sweatshirt. Right on the front in large letters is the brand name "JEEP", no mistaking it for a piece of American Eagle clothing. On the arm is a small badge with "1941" which is a bit of appreciation for the Jeep's military history and heritage.

2. Women's Star Long-Sleeve Tee – Next is meant for that special girl in your life who truly loves taking the Jeep off-roading just as much as you—maybe your first date was spent mudding or riding the beach sands in four-wheel drive fashion. Buy her this long-sleeve tee with the Jeep brand name and star. It is a slender fit, and like the hooded sweatshirt is a comfortable fit.
3. Register for a Jeep Jamboree – So you and your significan other are always looking for getaways, little mini-vacations, adventurous escapes? Well the Jeep Jamboree website allows you to locate Jamborees around the country, some of which may be close enough for you to register and participate in. The website design is clean and crisp, easy for just about anyone to navigate and to find an event nearby. Go to the new site today and find an event near you, because sometimes the best gift is the one you spend together.
4. Smittybilt G.E.A.R. – If you are going to do a lot of off-roading, what better thing to have than the Smittybilt seat covers which gives you and your passenger a cover with a number of cargo pouches for stowing a number of utilities and tools such as: compass, map, first aid gear, etc. Available in single bucket seat styling or bench rear seats.
5. Last of all, and of course the number one trump gift for any Jeep enthusiast, a new 2013 Jeep Wrangler which you can get your nearest Jeep dealership. You can learn a bit more about the New Jeep Wrangler by reading the review provided by Arrigo Ft. Pierce. Nothing says I care, or love you more than a brand new vehicle, and if they are a true Jeep enthusiast, then a brand new Jeep Wrangler (the number one off-road vehicle in North America).
So these are just a handful of some of the best gift ideas for your beloved Jeep Enthusiast. There are a lot more for you to look at, some of which are in the Jeep Gear store online, or from companies like Smittybilt who specialize in producing products that cater to a niche like off-roading.