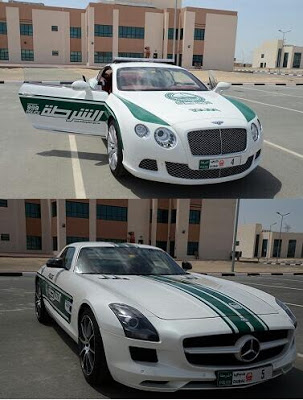 We have previously seen images of the cars prior to their wrap jobs but now we can confirm and show you pictures of the 2 new additions. A police official has said "The announcement of the three super cars joining the police team will be made on Monday at the Arabian Travel Market". Now the most important piece of information coming from that is that he said three super cars. This leads me to believe that the Aston Martin One-77 Q-Series could in actual fact be joining the team.
The fleet now includes:
Chevrolet Camaro
BMW 5 Series
Lamborghini Aventador
Ferrari FF
Aston Martin One-77 (still to be confirmed)
Bentley Continental GT
Mercedes-Benz SLS AMG
Who is keen on signing up for their police force?