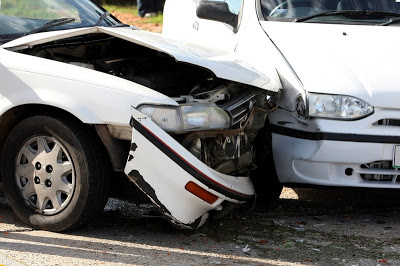 Although we all try to be as cautious as we reasonably can be whenever we are behind the wheel of a motor vehicle, we have to acknowledge that there are still some things which are beyond our control. It may be a section of the roadway that hasn't been properly maintained, it may be another driver who is under the influence of drugs or alcohol, it may be a mechanical failure of some type on your or another individual's vehicle; whatever it is there are many causes of car accidents. If you find yourself involved in such an accident, there are certain steps you should take in order to protect yourself as well as your rights to legal compensation.

Step One:
If you have been injured, seek immediate medical assistance. This one may seem obvious, but following an accident, you may be in a state of shock and may not realize the severity of your injuries. If you are able to take photos of your injuries, they may be useful to refer to later.
Step Two:
Make certain that the accident is reported to the proper authorities as soon as possible. This may be local, county, or state law enforcement, but whatever the case, be sure it is reported and that it is responded to. This would also be a good time to contact your insurance company to let them know that you have been involved in an accident.
Step Three:
Get as much information as possible from anyone else who was involved in the accident. This should include driver's license information, insurance information, and anything else that they may be willing to provide, such as where they were going, where they were coming from, or where they are employed.
Step Four:
Try to collect as much contact information as you can from any possible witnesses to the accident. If your legal representative has to bring in an accident investigator, this information can be very important.
Step Five:
If it is at all feasible, try to get photos of the accident scene before anything gets moved. Even if it is just some lower-quality pictures taken with a cell phone, it can help establish the location of items right after the accident.
Step Six:
This may be the most vital step; if you have been injured in any way, or even suspect that you may have been injured, procure legal representation from an experienced personal injury attorney. Right after an auto accident it may be difficult to gauge the extent of any injuries. Some types of injuries only begin to manifest themselves after a period of time. Serious tissue swelling, internal injuries, neck and spinal damage may take a while to make themselves known, so do not take any chances with your health.
In addition to these steps outlined, there are also two very important rules to remember following an accident of any consequence:
The first rule is, no matter what the circumstance, do not accept responsibility for the accident. That determination is yet to be made. The second rule is, do not accept any settlement check from an insurance company until you have consulted an attorney. Until the full extent of your injuries is known, a fair amount cannot be decided upon. Trust in your attorney and concentrate on recuperating.