Russian Street Race Ends with Mansory Bentley Crashing and Burning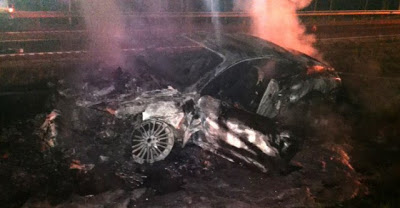 A Russian street race turned bad for this Bentley Continental GT owner after it crashed into an SUV and then burst into flames. This was no ordinary Bentley Continental GT but one that was tuned by Mansory (who are known for extravagant and over the top mods).
The fire demolished the car and one can hardly recognize the Mansory parts. A picture reveals what might have been the top speed during the race which indicates 241km/h. This is a very expensive mistake but if you are confident/rich enough to be racing a Mansory creation, then I am sure it will be but a minor knock on the owner's wallet.