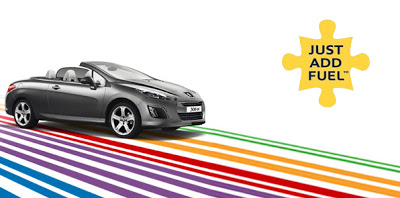 Car dealers often have deals to tempt and lure customers in to buy cars from them.
Because most people don't tend to have at least £10,000 hanging around to buy a brand new car, they come up with a range of attractive finance and lease options where customers are given the chance to drive away a brand new car in exchange for paying a low deposit and fixed monthly payments over a certain period of time, and then they have the choice of either paying off or financing the remaining balance, or simply handing the keys back to the dealer and starting all over again with another brand new car.
One such finance or leasing offer that is quite popular at the moment is "Just Add Fuel" deals for brand new cars.

What is a "Just Add Fuel" deal?
About a couple of years ago, vehicle manufacturer Peugeot started to advertise an all-in-one finance package of sorts called Just Add Fuel. Basically, upon calculating a finance package that suits your budget, you could drive away in a brand new Peugeot car and only have to worry about buying fuel for your new car.
How does the deal work?
The Just Add Fuel deal combines (for a three year duration) the cost of buying the car, road tax, servicing, insurance and breakdown cover, as well as a warranty for that period of time. It is essentially an incentive to get customers to buy a brand new Peugeot and not have to worry about all the extra costs, paperwork and hassle involved with these associated extra yet required factors of motoring.
You can decide how much of a deposit you want to put down (up to 40% of the new car value), and you make 37 fixed monthly payments – i.e. deposit + 36 instalments. At the end of the term, as with traditional finance packages, you can pay off the outstanding balance, get a brand new car and start again, or simply hand the keys over and walk away.
Is it a good deal?
As any motorist will know and confirm with you, the cost of road tax and car insurance seemingly rises on an annual basis, and this is also apparent on vehicles that have higher exhaust emissions.
The main advantage of Peugeot's Just Add Fuel deal is that because your road tax and car insurance premiums are effectively set for 3 years, you won't suffer the effects of having to pay more money to keep your car legally on the road.
Are there any disadvantages to the Just Add Fuel deal?
One point to bear in mind is that the Just Add Fuel deal is not for everyone, as there is certain eligibility criterion that must be met. Another point to think about is that this is only limited to Peugeot cars.
The good news is that there are similar finance schemes available for other makes of car such as Nissan, Kia, Fiat, and Hyundai. To find out more details, contact West London Motor Group.