You might assume that the most expensive car crash in history must have involved a very expensive luxury car. Well you'd be wrong. There was fourteen of them. The multi-car pile-up involved eight Ferraris, a Lamborghini, Japanese supercar Nissan GT-R Skyline, three Mercedes and an innocent Toyota Prius which was travelling in the opposite direction. The total cost of damages reportedly exceeded $4 million.
The chain-reaction crash occurred in December 2011 on a curve in the road of the Yamaguchi highway in Shimonoseki, western Japan, amid terrible driving conditions. A convoy of expensive sports cars were on their way to a supercar event in Hiroshima when the lead driver lost control of his Ferrari.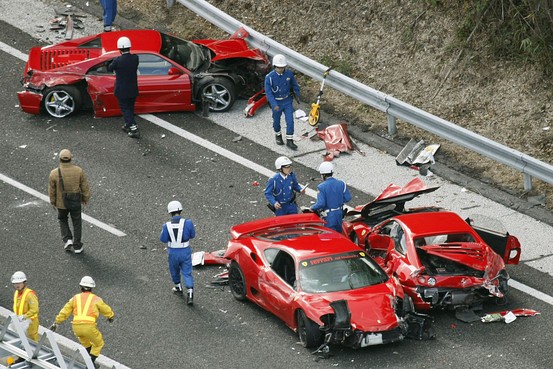 He hit the central reservation and rebounded into the path of the following cars. This caused a pile-up of accidents over several hundred yards as other drivers came around the bend and were unable to avoid hitting the wreckage of the cars in front.
The highway had to be closed for over six hours whilst the authorities removed the wrecked cars. Such was the severity of the damage that several of the luxury cars were completely written off.
Police said that ten men and a woman, none of which have been identified, had to be taken to hospital with minor injuries, but luckily no-one was seriously hurt in the wreckage. However, the bill will no doubt to be painful nonetheless.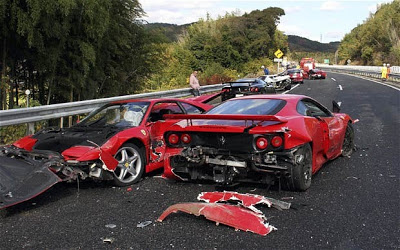 The majority of drivers were said to be foreign car enthusiasts aged between 38 and 61, and were reportedly either exceeding the speed limit or else not paying enough attention to the road. Some reportedly didn't know the specifications of their cars or how powerful the acceleration was.
The aftermath of the accident was sensationalised by TV crews and photographers keen to catch footage of the supercar-strewn highway. The pile-up has been dubbed "the most expensive car crash in history."
As the crash occurred in December 2011, Justice has been served to those drivers who were involved. Ten drivers were charged with suspicion of violating traffic laws in May this year. It has been reported that they were driving at speeds of 90mph.
As nobody was seriously injured the main issue really is the expense of the damage to the cars, and who footed the bill. It must've seriously affected their no claims bonus.
William Jackson is a keen motoring enthusiast and blogger. When advising people who have had car crashes and accidents he recommends that they go to http://www.kingsleyaccidentclaim.co.uk/