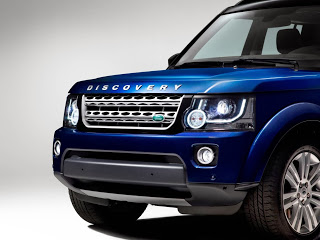 The Land Rover Discovery has always been a fantastic off-roader, and the 2014 version is as capable as ever, proving seemingly unstoppable no matter how much sand, mud or gravel you throw at it. Of course, this off-road capability is well known, so let's focus on what's new versus the older model.
First of all, the 2014 Discovery has been given a subtle face lift to keep it up to date for until the next-generation Discovery arrives. Unless you have a keen eye, however, you'll be unable to spot the difference externally – the biggest difference with the new Discovery lies internally with its technology.

For the first time, the Discovery features a Start and Stop system on the 3.0-litre SDV6 diesel, which cuts CO2 emissions from 230g/km to 213g/m, and in the real world, that translates to a road tax saving of £220 per year (from £840 to £620). That's a considerable saving.
In the process, fuel consumption has increased from 32.1 mpg to 35.3 mpg on a combined cycle. This new Start and Stop system works extremely well, cutting off the engine smoothly when you come to a complete stop. It's as efficient as the systems you'll find from German manufacturers, and surprisingly it doesn't trick the 8-speed automatic gearbox into a stall when it restarts – moving off is a rather uneventful affair. Farnell Land Rover love the new Start and Stop system, which is the future of Land Rover's.
Like the older version, the Discovery benefits from a rugged interior and a high driving position. The view of the road is exceptional and there is lots of room in the back for passengers, a dog, or your well used golf clubs. Wind and road noise at speed is also rather hushed, making the Discovery a not so awful place to be on a long journey.
If there was but one improvement that should be made on the next-generation Discovery, it is weight – the 2014 Discovery SDV6 has a kerb weight of 2,476kg, and boy is it felt around town; the steering is light and precise, but the sheer bulk of the Discovery makes it less nimble than it really should be. As Jaguar Land Rover have proved with the new Range Rover Sport, big does not have to mean clumsy, and by reducing weight it is possible that the next gen Discovery could have considerably better running costs too.
Overall
The 2014 Discovery is a little bit like a bridge – it is better than the 2013 version, and its carbon emissions have improved dramatically with the Start and Stop system, but it is still very heavy, which leaves room for improvement on the next generation. Ultimately, the Discovery is a great car, and it will serve all families extremely well.