Since I could not attend this Top Gear Fest function myself I sent another writer for Zero2Turbo to represent and enjoy the media launch. This is his wrap up of the awesome day they were given.
There is an important point you need to know about this whole event. The organisers hadn't told us what we would be doing or where we would be going until we got to the location. That made the whole experience a complete surprise.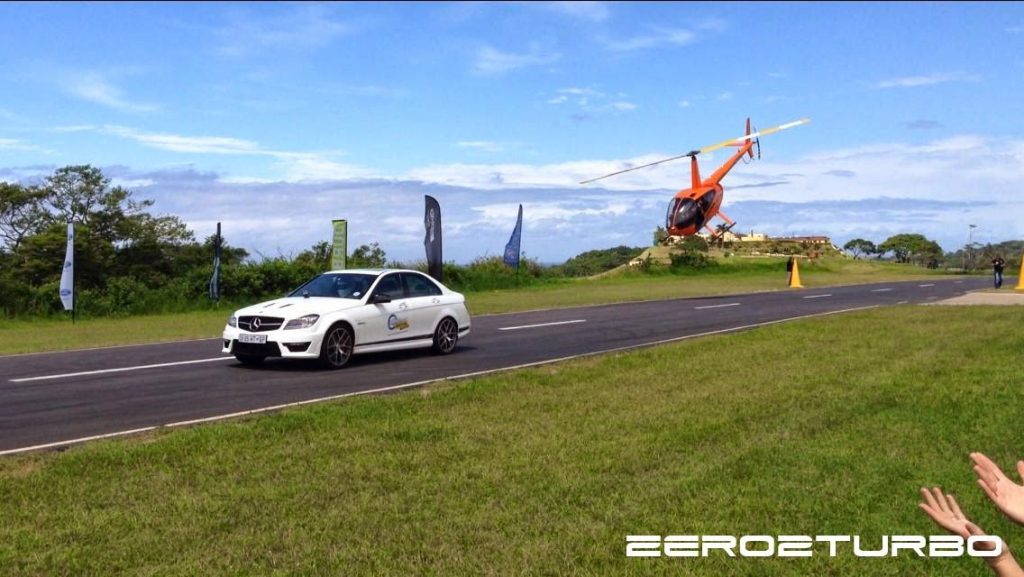 My day started at 4am as I had to be at the airport at 5am to be on the 6 am flight. I'm sitting on the plane, surrounded by businessmen, trying to work out in my head what they have in store for us. Thinking about it now, I was a long way off.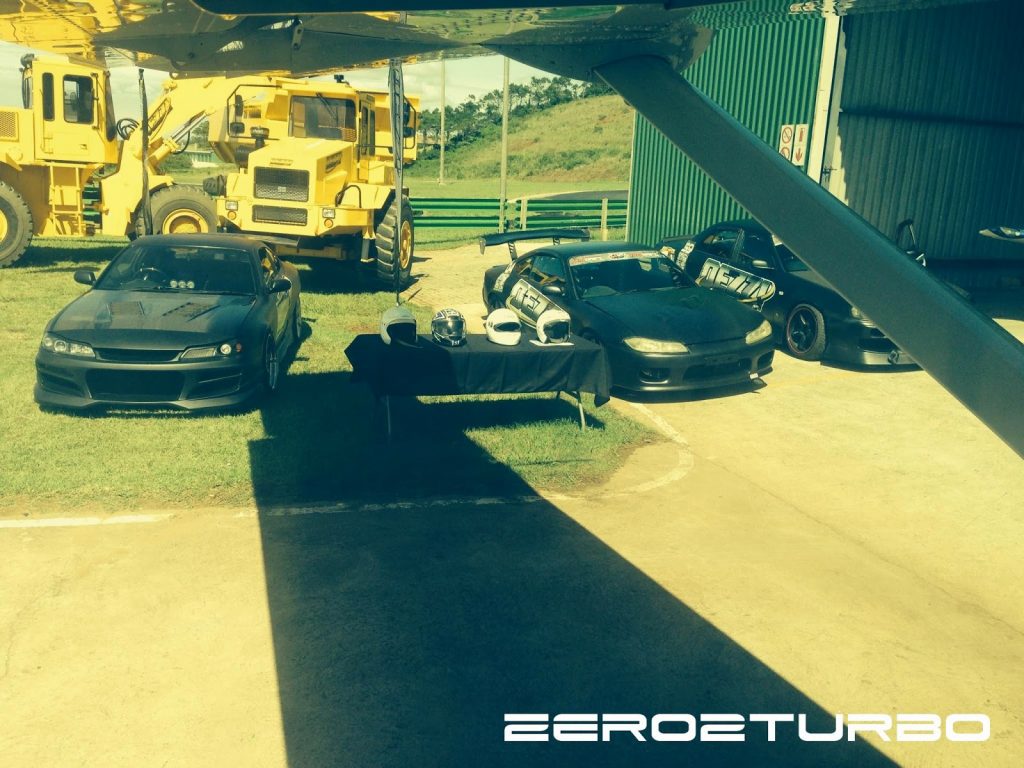 We arrive at King Shaka International and are greeted by a member of the production team. It's at this point that I realize Jack Parow is part of the 'team' that will be travelling to the secret location. We are then driven to Virginia Airport to be flown in a Cessna Caravan down the coast to the location.
After a bumpy 30 minute flight the pilot announces that he will do a fly over of the location. I get my first glimpse of the secret location. It's the Dezzi Raceway in Port Shepstone. The pilot lands on the main straight that doubles as a runway. As we approach the pit lane, I get a glimpse of some drifting cars (modified Skylines). Matte black beasts!! We disembark and are then invited to a few complementary drinks. I go for a look around to see what types of cars they have on display. They range from a Ferrari 458 to a new S63 AMG. There were also a number of different Porches and a beautiful McLaren Spider in royal blue. A while goes by and eventually James, whose surname escapes me, starts to inform us as to what they have planned for the day's activities.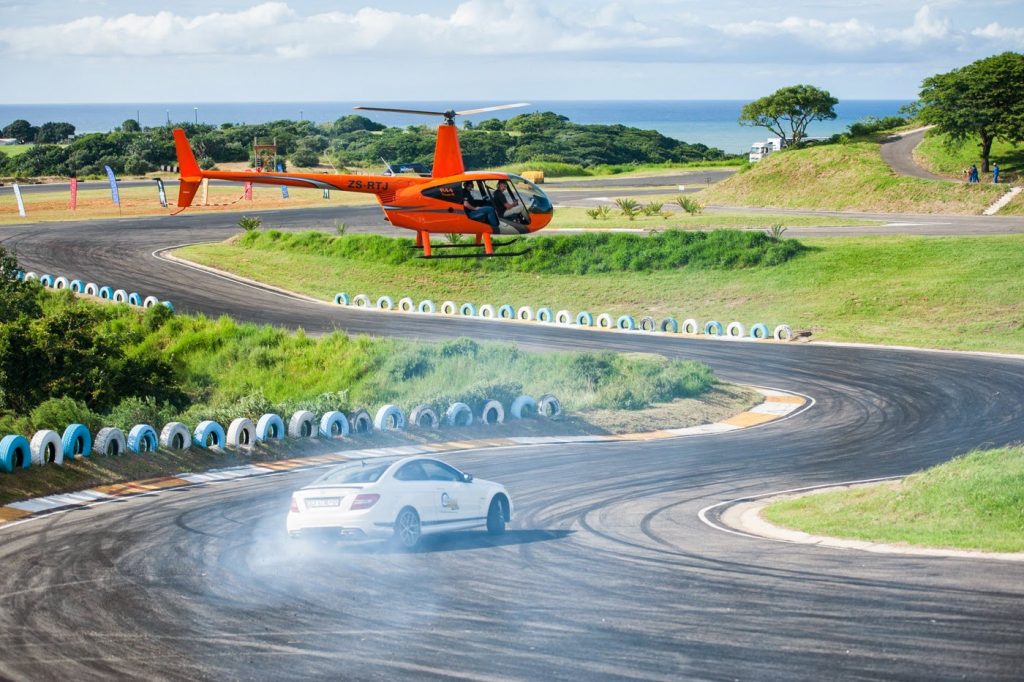 There will be drifting experiences, a stunt involving a helicopter and a "surprise". He continues and what I hear stuns me. I am a massive Top Gear fan so this was like a dream come true for me. The surprise was a personal drive from none other than The Stig. And not the Stig's South African cousin, the actual Stig. At this point my mind is blown, or so I thought. Before that, however, we are treated to a stunt. The Stig racing a C63 AMG against a helicopter. The Stig, as I'm sure most of you have already guessed, won quite convincingly. This stunt really set the mood for the afternoon.
We were then split into various individual time slots so the day could run smoothly. I eventually get my chance to go in a drifting car and let me tell you, that is one of the greatest motoring experiences of my life. Just when you think the driver has lost the back end, he flicks it the other way. You NEVER look through the windshield. EVER. You only look through the windows. I would love to have seen the footage of myself in the car cause I can only imagine that it looks like I'm constantly checking my blind spots. It was a short ride (no longer than 30 seconds) but it was truly an amazing experience.
Now I just wait, with bated breath, for my chance to hop in with the Stig. I hang around the transition area (where Stig changes cars) like a groupie snapping away on my phone. I've included some of the good ones. About a half hour goes by and I get my turn. FINALLY!!! I get my helmet and Jonathan Rich (the keyboard player for Gangs Of Ballet) and myself get into a C63 AMG.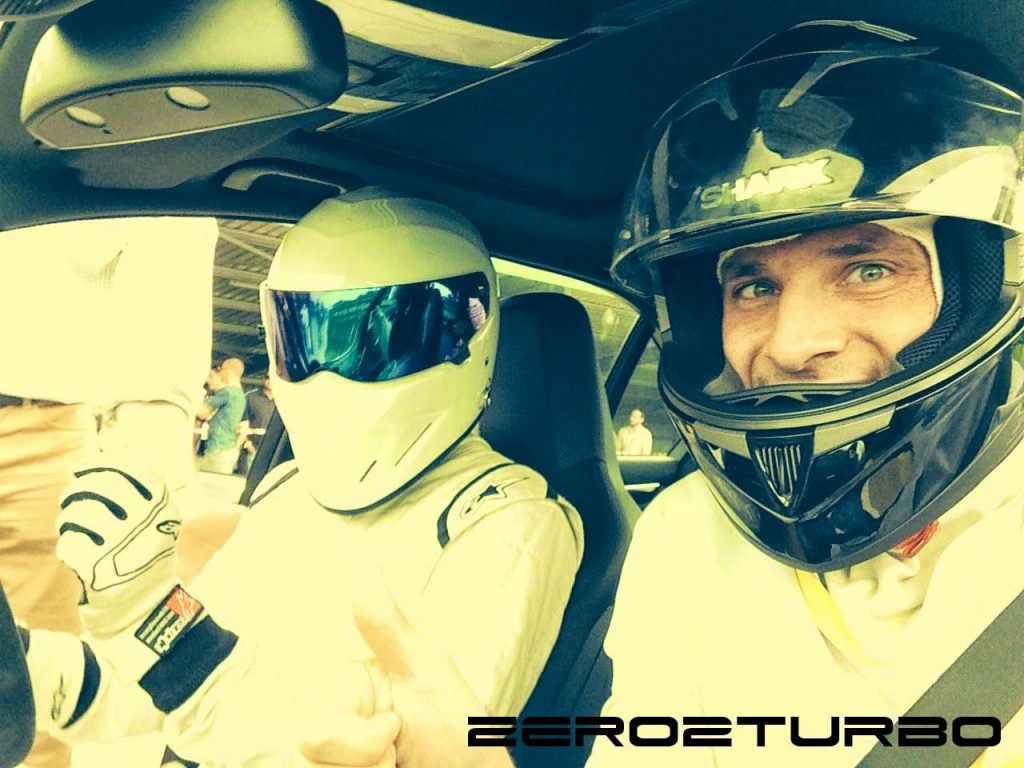 I make a concerted effort to try talk to him when he gets in the car stringing random sentences together just so he would acknowledge my presence. Nothing. He's clearly gone into driving-scare-the-shit-out-of-these-people mode. He sets off, but he doesn't cruise out of the pit lane and then floor it on the track, he just full taps right from the start. We start heading down the straight and I can see the first corner approaching. Inside my I'm screaming for him to break, but he just keeps his right foot buried. I knew he was going to break late, but I was so unprepared for how late. He eventually breaks and the car lunges forward. Before I can get back into my original seating position he turns in and sends my head flying in anther direction. This violent cornering goes on for a few more corners. We come to a part of the track is, according to locals, one of the trickiest parts of the circuit. It's an off camber, blind right-hander. Stig is approaching the corner in the usual manner (as fast as flipping possible) and all you can see is track and sky. It seems as if we are about to drive off the edge of the earth. While I'm imagining my death, he turns in. I get the stomach lifting feeling, which has seemingly appeared out of nowhere, as we approach the apex. We hit the apex, and the back end starts to kick out. In all his glory, Stig manages to get it under control and precedes to hang the tail out for the next few metres. It is a completely different feeling to the drifters I was in earlier. He straightens it out and my head shoots violently back to the centre of my shoulders. It's quite a nice feeling to have control of my head again and to have it in a familiar place, buried in the headrest. We come to a stop in the pit lane and I find myself willing my own hand to release the handle on the door. I manage to get my shaking body out of the car and am invited to take a photo with the man himself. It was the perfect end to a truly nerve rattling, heart pounding, and adrenalin pumping experience.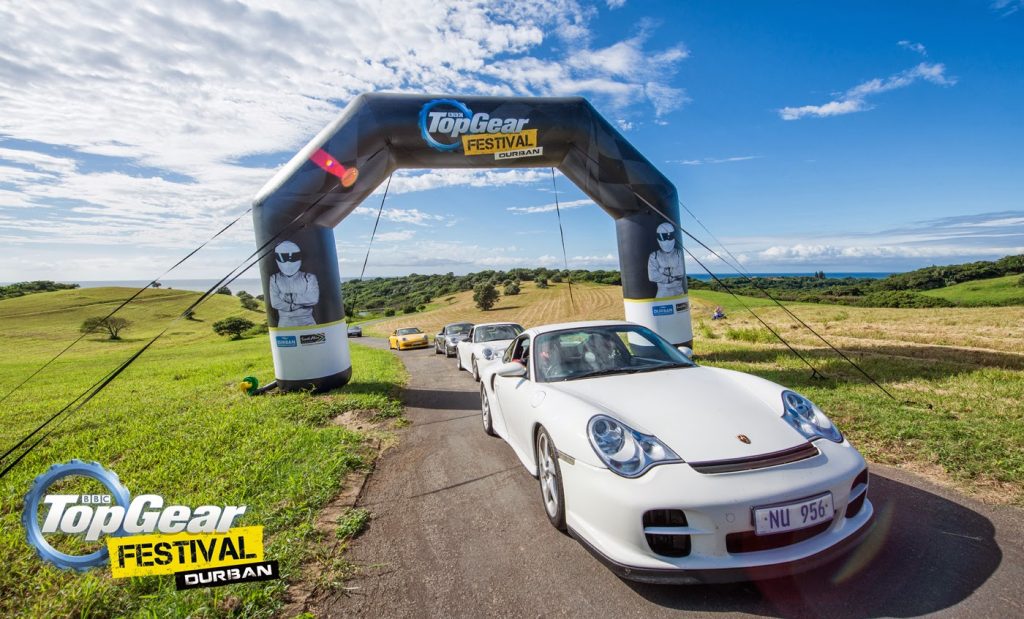 The day was still not over. After a small wait to make sure everyone got a chance to go with the Stig, they brought out a little treat. It was a 1300 horsepower tuned Skyline. All of that power coming from a seemingly tiny, 6 litre V8. Anyway, they start it up and it sounds mean. Even at idle it's menacing. The driver takes it out and does 2 slow runs to warm up the drivetrain. Both times it came past on the warm runs, I was astounded by the sound it made. It eventually stopped in front of us line up in the pit lane against the guardrail to do a launch start. The driver brings up the revs till it's bouncing off the limiter and my ears immediately start to ring. He drops the clutch and to say it almost took off is an understatement. I obviously couldn't know exactly just by watching, but I wouldn't be at all surprised if it broke the 2 second barrier to 100kph. I will never forget the sound it made as it came past. I'm pretty sure my ears were still ringing when I went to bed that night.
That was where the surprises ended. The day was over, and, after receiving goodie bag or two, we were ushered away to our various forms of transport and whisked away (the media representatives that came from Johannesburg were picked up by the Porsche Owners Club, two GT3s, a GT3 RS, Cayenne GTS, and a few Caymens).
It really was a day to remember. I have never experienced anything like it. The cars, the experiences, the hospitality, and the banter will resonate with me forever. If there's one thing that I can take out of this experience, it would be this: get yourselves a ticket to Top Gear Festival South Africa in June. Believe me, based on what I saw at the media launch, it's going to be an incredible show. Thank you to the crew and everyone involved in the production.
Full media release after the jump. Click see more.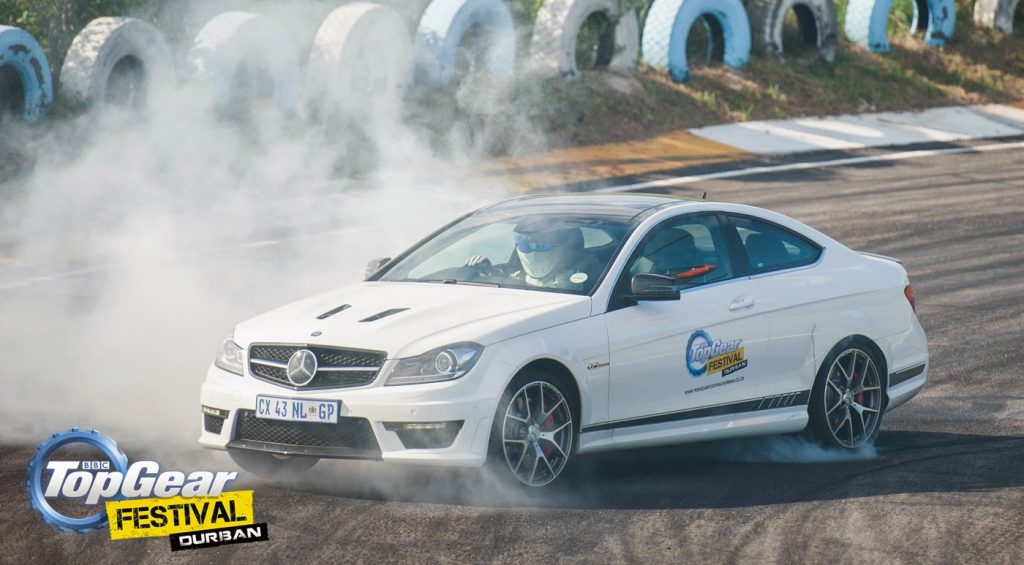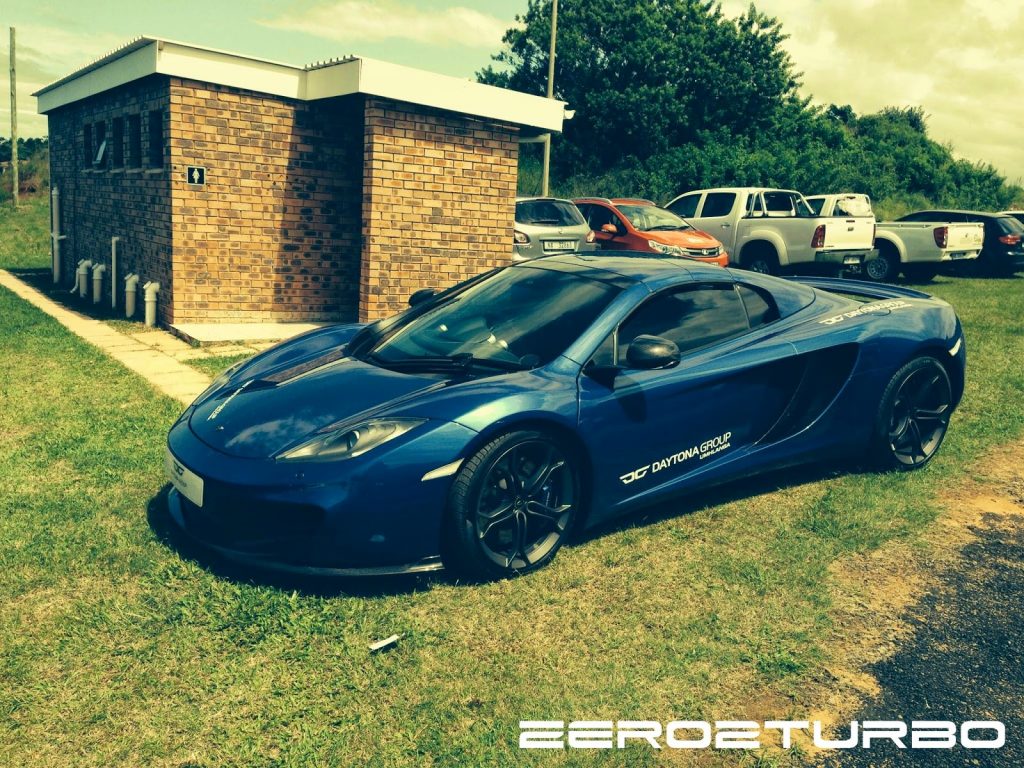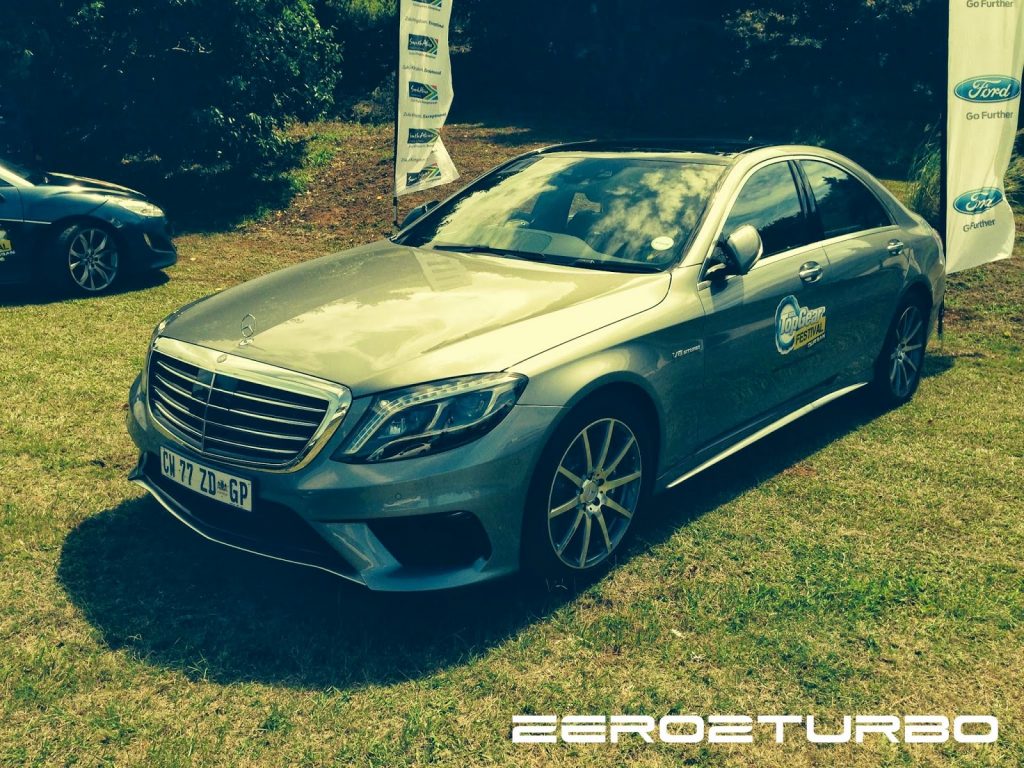 Tickets are finally on sale for the most anticipated event on South Africa's motoring calendar and to celebrate, Top Gear's mystery racing driver The Stig made a surprise visit to KwaZulu-Natal to give some local celebrities and media a taste of what's to come. In just 100 days time, Jeremy Clarkson, James May and Richard Hammond jet in to Durban to be part of what has been an incredible trilogy of Top Gear Festivals in 'The Warmest Place to Be".
Some of South Africa's most famous sporting, entertainment and television personalities were lucky enough to take part in experiencing The Stig pushing a Mercedes C63 and Ford ST to their limits at the famous Dezzi Raceway situated on the South Coast of KwaZulu-Natal. For Rugby Legend AJ Venter and Springbok Ryan Kankowski who are no stranger to adrenalin-inducing situations, being in the car with The Stig took this to a whole new level. When asked about the experience, Ryan commented, "Amazing – we all know how to drive quickly in a straight line but to be in the car with someone who is in such control is almost relaxing. I love cars so being able to experience that was really special".
There were celebrities aplenty and most of the guests were lost for words after their experience with Top Gear's infamous man in the white suit. For the guys it was all about driving skill and speed, famous rapper Jack Parrow had this to say: " Amazing like really like next level – I have never been drifting before but doing it with The Stig is next level."
TV personalitiies Zakeeya Patel of M-Net Series, The Wild fame, Dineo Moeketsi from Vuzu and Bridget Khati of Mzanzi Magic's The Road to Miss SA reality series also took an exhilarating ride with The Stig but despite their best efforts, did not manage to tease a word out of the tight-lipped driver. Bridget Massinga Khati commented, "If I could afford a chauffeur, I would pick The Stig" while Nicole da Silva of 5fm had this to say, "You havent driven in a car until you have driven with The Stig – awesome".
In Top Gear Festival Durban year one, over 67,000 petrol heads watched The Stig set unprecedented times in several supercars including a Lamborghini Aventador and McLaren 12c. Last year The Stig tackled the longer, more challenging course in some of the world's fastest track cars and joined Top Gear Presenters Jeremy Clarkson, James May and Richard Hammond for their live show within the Moses Mabhida Stadium.
The third episode in the Durban Top Gear Festival trilogy will take place from June 21st to 22nd 2014 at Durban's Moses Mabhida Stadium. Tickets are on sale now and range from the Basic Ticket at R260 to R1995 for a SuperSport Elite Village. For more information on ticket prices or to book, visit www.topgearfestivaldurban.co.za. For travelling Top Gear enthusiasts and guests, there is a full range of travel packages, with flights from Mango and accommodation from Tsogo Sun, giving Top Gear enthusiasts the perfect excuse for a weekend in Durban. For more information on corporate hospitality and travel packages available, go to www.topgearfestivaldurban.co.za