For many years now F1 has essentially been dominated by European teams. The likes of Ferrari, Williams, McLaren, Mercedes, Red Bull, and Lotus all have strong groundings in Europe as a whole and often this is focused particularly in the UK with the exception of the boys in red of course. Even the German born Mercedes team have very strong routes in the UK and have given the Brit, Lewis Hamilton, his second World Championship recently. It is not just the main teams that seem to spring from the UK and Europe either; a company called FEV based in a small town in the UK actually provide the fire extinguishers for most of the grid! All of this, however, is about to change with the US team Haas F1 is about to join the fray in 2016.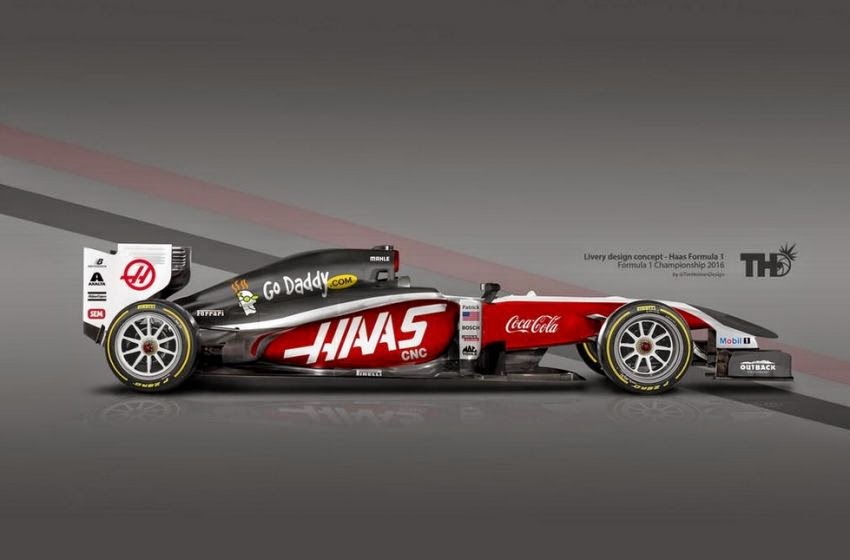 The man behind this team is Gene Haas, a man that has been involved in racing for some time now with a major NASCAR team and now an F1 team to his name among other things. Gene's initial involvement in NASCAR was not greatly successful but from 2004 onwards he began winning races with his team Haas CNC Racing. Sadly though, by the end of 2008 the team was still not quite making it with an average final position of just 27th. It was around this time Haas announced he was joining forces with the driver Tony Stewart, and it was from here the team began seeing some real success with a number of different championship wins now under their belt. Haas can now claim to be one of only a few owners that have had wins in all 3 touring racing series in the US.
In January 2014 Haas officially stated his intent to join the F1 grid and in April that year the FIA granted the team a licence. It later came out that Haas F1 would not be taking part in the 2015 championships, but would hold off and begin the US inclusion in 2016.
America and Formula 1
The US is certainly a country that is passionate about motorsport, passionate about racing and certainly passionate about the V8. However, F1 has not really ever made it into the wish list of the American teenager hoping to live the life of a racing driver. To be honest, with so many different types of motorsport it is not really a surprise F1 isn't a priority, why would it be? There has only ever been and handful of drivers in F1 from the US and currently there are none, although Alexander Rossi was certainly very close to finally getting a drive with Marussia in 2014. This is a real shame as the grid comprises of drivers from a wide range of countries, I think most people are hoping Haas F1 will be looking to change this and bring in some American Spirit to the racing in 2016.
Since 2012 the amazing Circuit of the Americas in Austin, Texas has played host to a massive range of top flight motorsport, not least of which is the F1 Grand Prix. The US has hosted various GP events since 1908 but these have been on and off and perhaps not to the high standards of the recent events. It is a great track with a brutal hill climb and it is certainly a big event, so everyone is looking forward to seeing the increase in American interest in the race when Haas F1 drivers take to the track.
Haas F1 – The Cars and the Drivers
Haas F1 and Ferrari have recently announced their partnership planned to run for an undisclosed multiyear time frame. This may have some relation to Gene Haas's failed attempt to buy up the remnants of the failed Marussia team who also happened to use a Ferrari engine. Either way the US team have one foot firmly planted in Europe now and it also seems they too have plumbed for a slice of UK motoring heritage by building a base in Oxfordshire to support the European races on the calendar. America is certainly one of the largest markets in the world for Enzo's road going racers – so not only is this a partnership of heritage and quality, but also one of some considerable commercial value to both parties. In terms of the rest of the car Gene and his team have made some clear indications that they will be looking at building their own car after plans to use the Italian constructer Dallara. Due to various rule changes moving through in 2015 it seems it is now far more viable for Haas to take on the job, and seeing as they own one of the most technically advanced wind tunnels in the world, why not!?
In terms of the drivers, Haas has made it very clear he will be taking on a seasoned F1 driver as a number one, but is hoping to find a solid American driver to join. I think everyone would like to see a US driver in a US team, not least the small but growing band of F1 fans in America. The issue that has been discussed is simply that the team do not want to spend the entire season at the back, or worse, the next 3 or 4 seasons – which was very much the fate that befell Caterham and Marussia. Haas wants a competitive team that will improve with each race and for that he needs two good drivers, not one good one and one token American in the hopes of pleasing the fans. It is a very sensible plan and one that will pay dividends in the long run. Danica Patrick is certainly a possibility, but as she will be 34 next season Haas may well be looking for a younger contender, though he has been quoted saying they were considering a female driver. This would certainly add to the interest in the team and would please a lot of the sports followers including me. Of course Alexander Rossi is in the frame but it remains to be seen who makes the final cut.
What should we expect to see?
Not only has the US brought us one of the most exciting races on the F1 calendar, it is now about to bring us a brand new team, and not a team that is prepared to sit at the back of the grid. We all love the sport and we love the excitement of new contenders, we love them even more if they come with keen fans, a thirst for winning and a big budget… I certainly don't think Haas F1 will disappoint! Roll on 2016.
Ade Holder
www.holdermotoring.co.uk