Pretty much as soon as I watched the Top Gear where Richard Hammond beat the cr*p out of the yellow Bentley I was asked to drive it by Bentley South Africa. After hearing what they had to say about it and reading many other press reviews online I couldn't wait to get behind the wheel of Bentley's sportier Continental GT, the V8 S.
I was very skeptical about Bentley launching a car which is inevitably more driver focused as this is not something they do very often but after about 10 minutes behind the wheel of the car I completely understood it all. I was lucky enough to drive the 'regular' Continental GT V8 last year so I have a very good idea of just what they have done to improve it, how they have done it and if it has worked.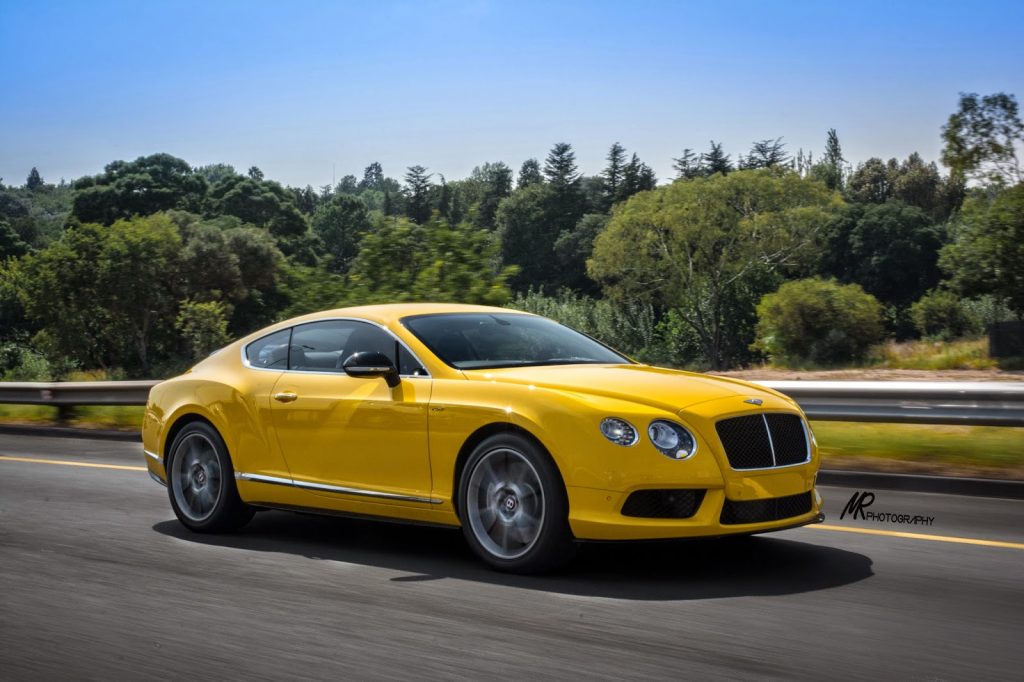 A great place to start off is of course with the power plant. They took the already accomplished and proven 4.0-litre twin-turbo V8 gave it a little tweak and out of this came an increase in power and torque as well as an improvement in efficiency. The Continental GT V8 S now produces 521 horsepower and 680 Nm of torque which is only a 21 horsepower hike over the GT V8 but it makes a massive difference.
Although during the testing of the car I went through quite a substantial amount of fuel, the claimed 10.6 litres per 100 km (combined) does not seem completely unreasonable. When you drive this car in its most comfortable setting, there is no drama, the car is insanely smooth and of course there is the clever cylinder deactivation system in place to save fuel when you not giving it the beans. Now on the other end of the scale when you bury your foot to the floor this car turns into a raging beast. Every single time you do this, your face lights up thanks to the treat that is the exhaust note and the massively surprising acceleration. This car weighs 2.7 tons and it can hit 100 km/h in just 4.5 seconds (0.4 seconds faster than V8). There is no sense of the car being big and bulky because that twin-turbo V8 throws it forward like its a piece of paper. The fact that the 8-speed ZF gearbox changes gears in a fraction of a second only adds to the theatre as the power is completely relentless and your neck will let you know quite quickly. When it comes to stopping, you have no problem here because fitted as standard are 405 mm ventilated discs up front and 335 mm at the rear. If you opt for the slightly bigger carbon ceramic discs (420 mm front, 356 mm rear) you will be able to claim that your car has the biggest ceramic discs ever fitted to a production car.
So what is different cosmetically? To start you get lowered suspension (10 mm) which immediately gives it more presence. There is a new sharp front splitter, side sills, subtle rear diffuser, black gloss radiator grille and the chrome 'figure of eight' loud pipes at the back. To complete the makeover, you get discreet V8S badges on the front fenders and a new 20-inch wheel design specifically made for the V8 S. Not a dramatic change at all but this particular car is finished in Continental Yellow which probably makes it the "loudest" Bentley in South Africa.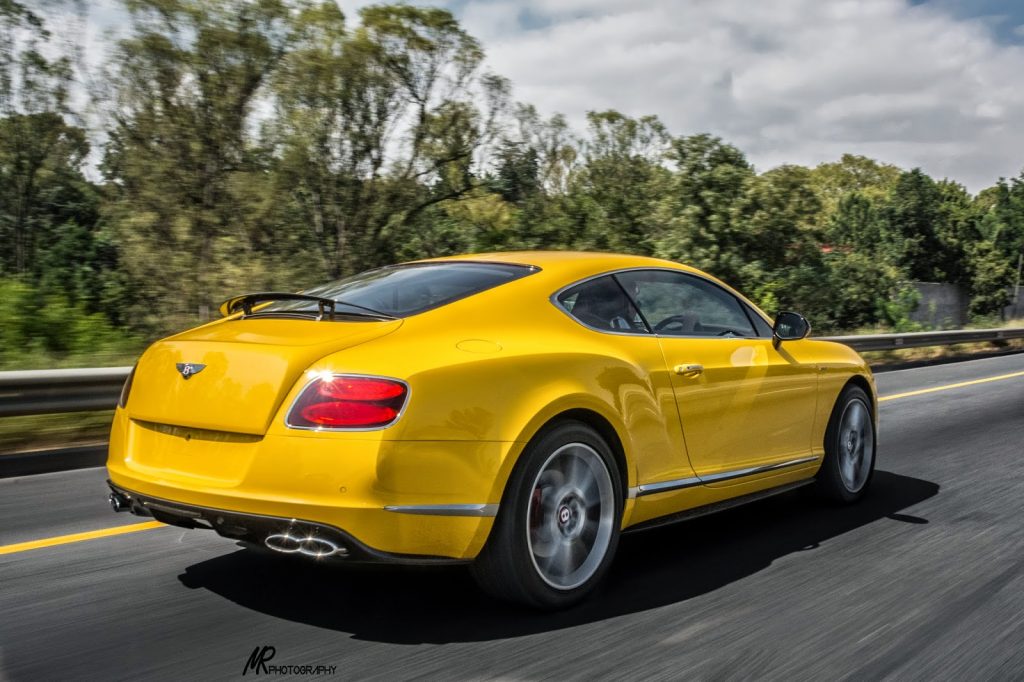 Bentley produced this car to offer a little bit more when it comes to their GT V8 and this car does more than just a little bit. They have increased the spring rates, revised the damping, stiffened the bushes and rear anti-roll bar and re-calibrated the steering which provides much improved precision and feedback. Interior remains very much the same apart from a piano black finish as standard and a slightly sportier feel thanks to the dashboard being angled just a little bit more. The interior is one of the finest in the world and driving this car on the open road is an absolute pleasure as expected. Dropping the car into S mode and everything changes! This is what the V8 S is about and I am quite positive everyone will agree with me on this. What happens if you already have the V8? I suggest you find a buyer or trade it in as this is better in every aspect. This GT is more menacing and it flaunts this rather well. The Continental GT V8 S is the most driver focused and entertaining Bentley to date without a doubt! Well done to the chaps from Crewe because I think they have achieved exactly what they set out to do!
Pricing:
Bentley Continental GT V8 S – R3,920,000
Bentley Continental GT V8 S Convertible – R4,245,000
PRO's:
Mental exhaust note
Relentless power
Cylinder deactivation
Steering feedback
Grip thanks to huge wheels and AWD
CON's:
Gearbox won't shift down to first until you are barely moving
Fuel consumption when 'having fun'