I am in love with this car and I want one… THE END!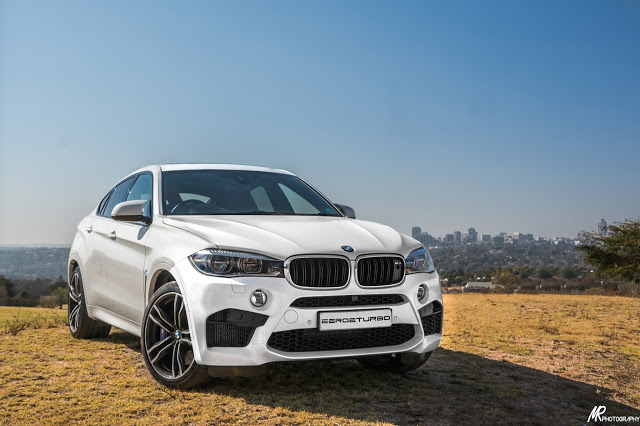 Unfortunately I can't just write that because there is so much to say about this car that I need to share. When I went on the launch in Cape Town I got behind the wheel of the X5 M and although it is nearly identical to the X6M, for some reason this beast made a much bigger impact. The moment she arrived to the moment I left I could not stop smiling knowing that I had such a monster all to myself!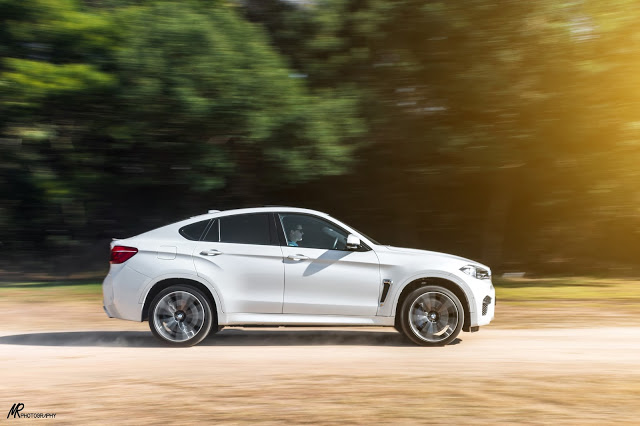 The unit I had was finished in Mineral White Metallic which is not as good as Long Beach Blue but in the correct light, the pearl effect shines through and all the grooves and lines that the M team have integrated into the body pop beautifully. The interior spec was Mugello Red Merino leather which was not to everyone's liking but the more I sat in and drove the car the more I agreed with it. I am not 100% sure I would order this colour but in a car that goes and sounds like this, a bright red interior is not a bad choice at all. One issue I noticed was the obvious wear on the leather seat which should not be this visible on a car that has only done about 8000 km's.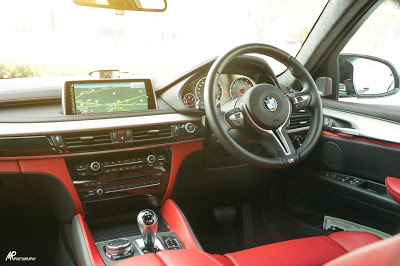 So how does this car drive? It is complete driving pleasure in every sense! In comfort mode the suspension is forgiving, the steering is uber-light and the twin-turbo V8 is quiet but at the other end of the spectrum it is a complete and utter animal! 423kW and 750Nm of torque is enough to rocket this 2,3 ton car to 100 km/h in just 4.2 seconds (I think this is a conservative number) and go all the way to a limited 280 km/h. Put your foot down on the accelerator in this mode and you know all about it. The reactions you get from other people in the car are priceless and if I only had a GoPro mounted inside the car, you would all know what I mean. When you change gears in this car under full load (especially 1st to 2nd and 2nd to 3rd) the bark that comes out of the quad pipes actually gives you a fright so I can only imagine what it sounds like when you are passing someone on the side of the road. It is epic and because of this, you flick up and down through the gears to hear the the pop over and over again.
Launch control in the X6 M is a cinch to activate and once you see the little checkered flag on the dash you know rocket mode has engaged. The way this car takes off in this mode if mind-boggling and every time I did it, it took my breath away. No wheel spin, no drama and (unfortunately) no gear-change bark but the way that speedometer needle climbs is astonishing. Yes the fuel consumption is not great but if you are buying a car that can do this, you don't give a damn about keeping her tank topped up.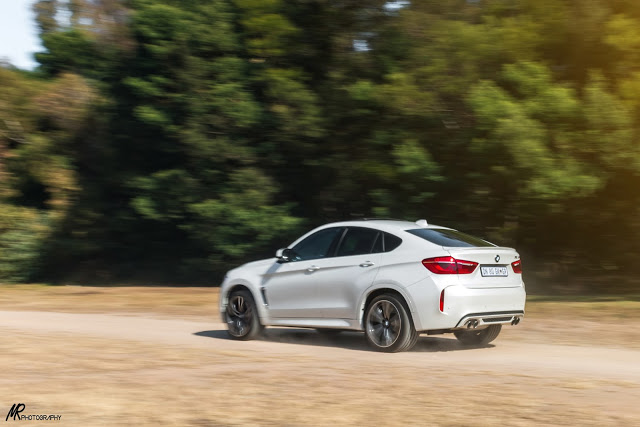 I had this car for a week and the days flew past! I could not get enough of it and although the base price on the car is R1,676,500 the more time I spent behind the wheel, the more I thought that the price tag was justified. The press cars are generally packed with extra's as was this which took the price up to a hefty R1,933,058 but it was jam packed with gadgetry and safety systems one of which was the Night Vision with object recognition. I know this has been around for a while but I have never actually driven a car at night with the system and this particular one works flawlessly. You can see pedestrians that are close to the road side on the system way before you can actually see them with your own eyes as the camera picks them up and highlights them bright yellow.
BMW have got it oh-so-right with this car (as with most of their cars) and I can only imagine what these cars will be doing in a few years time. I am a massive fan of this car and I cannot get over how ballistic it is to drive. I will miss it!
PRO's
Performance
Sound
Gearbox
Launch control
Tech
CON's
Thanks to
MR Photography
for capturing this urban beast over looking Sandton and on the move!