It has been a good few years since I have sat behind the wheel of a Mini and although this is a Paceman and not the traditional Cooper, you instantly get the Mini feel thanks to the outlandish interior and go-kart like grip levels.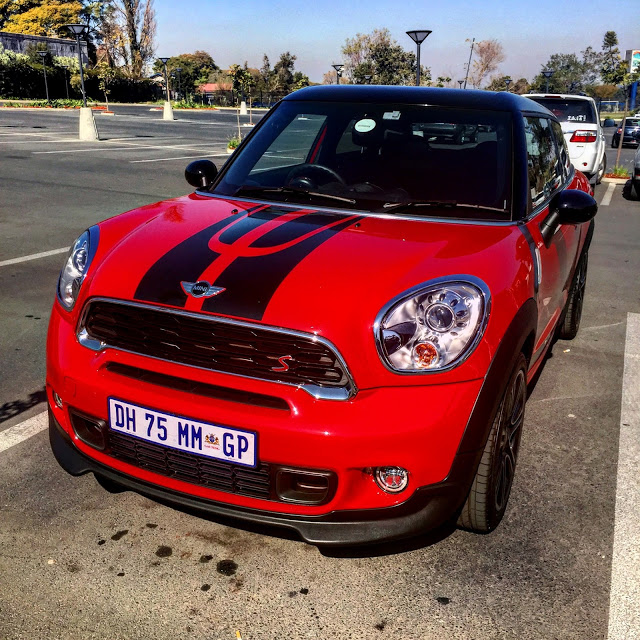 Before I get on to the drive, I am going to get the cosmetic opinion out of the way. I do not think it is pretty at all however during the week I had the car, many people commented on the funky and fresh appearance but that was mostly from the younger generation. If you look at the front you see a raised Mini Cooper S but if you look at the back it looks bulky and a rather ugly. The 'original' new Mini Cooper S is still the best looking Mini because with these additions to the Mini lineup and the new Cooper, it is a lot more than a Mini these days and more of a Maxi.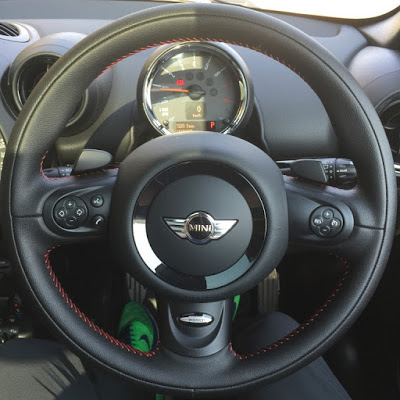 The interior of the car is seriously unique to Mini and some people loved it and some people hated it. I was very neutral on the subject because although the interior colour lights changing is very kitch the rest of the installation is very modern and enjoyable. The press unit that was delivered to me was packed with a bunch of extra's and they come at quite a price. Base price for the Cooper Paceman S is R401,000 but this particular car was spec'd to just over R513,000 which to me is rather overpriced.
The 184 horsepower (140 kW) twin-scroll turbocharged 1.6-litre engine manages to get you to 100 km/h in 7.4 seconds which may not seem that impressive but thanks to sport mode (which can be engaged by using the paddles on the steering wheel or a switch on the console) it makes you feel that it is rapid. The sports suspension stiffens and the turbocharger makes that little engine scream all the way to 7500 rpm. The claimed fuel consumption is 6.0l/100km but to be fair it is not that good (even on the open road) and you can expect something around the 10l/100km which is not the end of the world. This car is hard to drive carefully because it is so nippy and so responsive you will find yourself continually pushing the limit of the sporty Paceman and this obviously does not work when you are wanting to save fuel.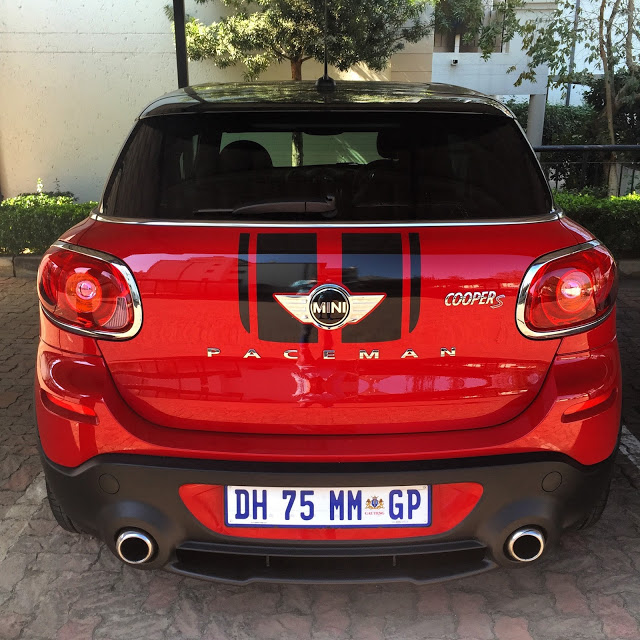 On the official Mini website, there is a statement which caught my eye, "we didn't make it for others to look at. We made it to drive." and this could not be more true. It is a blast to drive and it is a pleasure being behind the steering wheel but it is certainly not the easiest on the eye.
PRO's:
Performance
Crackle overrun (if you get the revs right)
Go-Kart like grip
Pleasure to drive on open road
CON's:
Looks
Price
Badly utilized interior space