When I was told I would be getting the little Mercedes GLA on test, I was a bit hesitant as to how I would like it but after having the car for a few days, I can safely say that it is extremely good.
Not many people know where this car fits into the market as it is a compact cross-over / SUV and to be honest, before I drove it I also did not see where it fitted in. When you think about what it is competing against and how it fares in this category, this is where it all starts to make sense.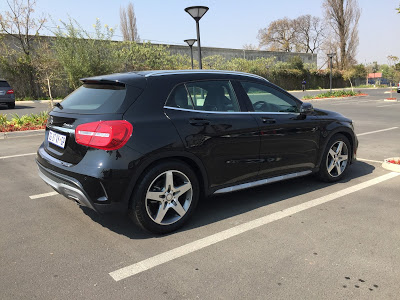 Competing against the likes of the Audi Q3 and BMW X1 the Mercedes GLA has some worthy opponents in the luxury compact segment but it sure stands up to them. The car is packed full of premium features and not only is it extremely easy to drive and park, you can also fit all your weekend gear into the car with ease. Like the Q3 and X1, it has been designed with the active buyer in mind so the 4MATIC system as well as the increased ride height makes it perfect for a little bit of off-roading when you need to get to that slightly less accessible spot.
Being a Mercedes, you can assume that there will be a handful of safety features and you would be right. These include; Attention Assist, to make sure you stay alert while driving; Collision Prevention Assist, a brake assist system that activates at only 4 mph; and Distronic Plus, which when combined with Collision Prevention Assist, will automatically brake the car for you in the event it detects an impending crash situation. Then there's the Blind Spot and Lane Keeping Assist, Park Assist, and the list goes on.
Driving this car is where it won me over and although it is not the most rapid on the road, it is more than punchy enough to have a bit of fun but it is so much more practical than say the GLA45 AMG. The car is extremely comfortable to drive, visibility is great and the navigation system works very well. If you want to keep it tame and tidy, you just flick it into drive and away you go. If you want to have a little bit of fun, you take control of the gear changes with the paddle system and you can really rev the 2.0-litre turbocharged engine to sprint around the streets. 0 to 100 km/h takes 7.1 seconds but I personally think that is a conservative figure as the traction off the line is superb. The 2.0-litre turbocharged engine pushes out 155 kW and 350 Nm of torque which is more than enough to give you that go-kart like feel around corners and accelerating off the line. One gripe I had with the car is the slightly delayed reaction to the paddle shifts. This could be a little more edgy and responsive in my opinion but even with this the car gives you a sense of confidence as it sticks to the road like super glue.
Base pricing for the GLA250 4MATIC is R586 400 which is quite hefty but you are actually getting a lot of car for this.
PRO's
Go-kart like feel
Interior quality
Comfortable
Safety tech
CON's
Delayed paddle shift
Rear design not my cup of tea