Having only driven the Jaguar F-Type Convertible, I was extremely keen to jump into their latest and creation and see what the smallest, lightest and stiffest Jaguar sedan ever made could do.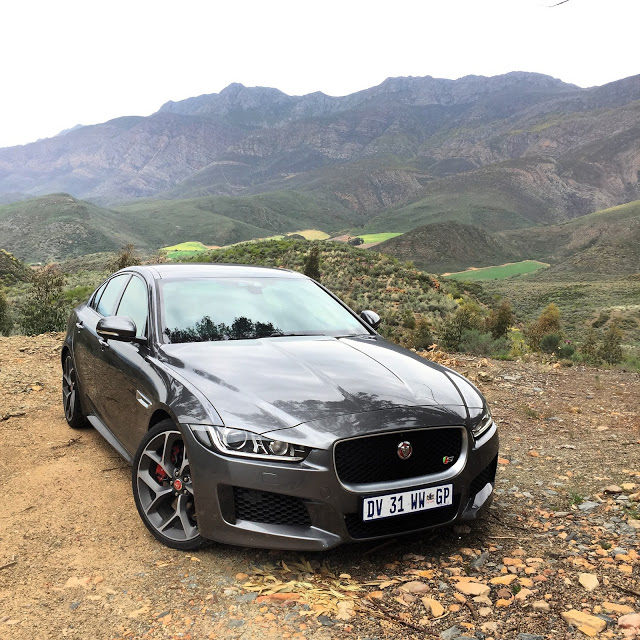 The team from Jaguar South Africa invited me to the launch in Cape Town and although you are here to read about the car, I can safely say that it was one to remember and we were spoiled rotten by the team. For the purpose and theme of the website, I am going to stick to writing about the range-topping version, the XE S.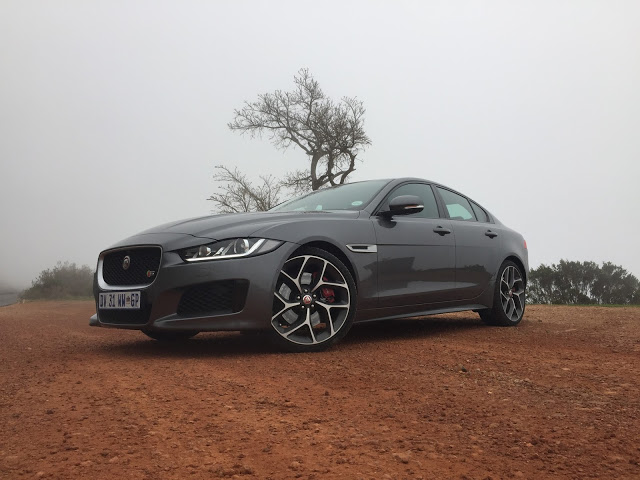 Powering the machine is a 3.0-litre supercharged V6 which pumps out 250 kW and 450NM of torque. These numbers are good enough to get you to 100 km/h from stand still in 5.1 seconds and keep on going to 250 km/h. When you put your foot flat you really do shoot off into the distance but what disappointed me was the exhaust note of the car. We all know what the F-Type V6 S sounds like under load and changing gears etc, but this has none of that theater. Yes I know it is a luxury sports sedan so it should be comfortable and quiet but I wish they had allowed the barking and crackling from the F-Type transfer to this car, especially in Dynamic mode. The car comes with Jaguar Drive Control which allows you to choose between 4 different modes; Eco, Normal, Winter and Dynamic. I only tested Eco and Dynamic and the difference is rather large. Throttle response is sharpened, exhaust is slightly louder and the car stiffens up in dynamic but in Eco, if feels like you are driving a whole new car. Uber-slouchy on the throttle (to help save fuel) but oh-so-comfortable thanks to the soft setting on the suspension. The rear-drive XE is the only vehicle in its class to use an aluminium-intensive monocoque and this not only saves weight but makes it more fuel efficient. The XE S is really good around bends too with one of the best steering systems I have felt in a while. The feedback and feel when you are pushing the limits is excellent and it makes you ooze with confidence behind the wheel. Foot flat from stand still while taking a corner and it wants to step out in true sports car style. This is a big plus for me.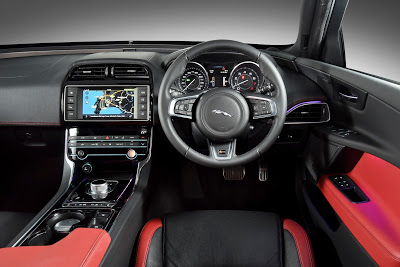 Inside the car it is very modern but at the same time you know you are in a Jaaaaag. There are logo's and branding wherever the eye can see and I stopped counting at about 14 after I see every single vent had the word 'Jaguar' etched into the adjuster arm.
Because this was a launch, I only had about 2 hours with the car but you can tell immediately that the car is extremely good and I think if the price was a tad lower, it would steal alot of customers from the German trio (BMW, Mercedes-Benz and Audi).
Although it has not been confirmed yet, I am sure we will be seeing a XE-RS or XE-R in the near future and I can only hope they bring the theater back with a big, beefy supercharged V8.
Base pricing for the various XE models can be seen below:
2.0 Diesel Pure – R534,800
2.0 Diesel Prestige – R590,400
2.0 Diesel Portfolio – R654,600
2.0 Diesel R-Sport – R614,000
2.0 Petrol Prestige – R638,900
2.0 Petrol Portfolio – R703,200
2.0 Petrol R-Sport – R662,600
3.0 Supercharged V6 S Petrol – R908,100