The media launch of the new McLaren 570S happened this week and I was in attendance to see what this 'entry-level' Mac was all about.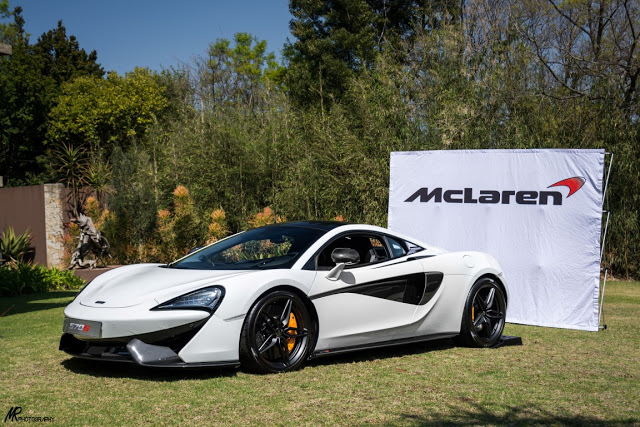 Base pricing on the car was the first question on everyone's minds but a firm answer could not be given because of the volatility in the rand at the moment. Daytona CEO, Justin Divaris, did mention that the starting price (depending on the exchange rate) will be anything between R3.2 and 3.5 million. At the time of the launch, there were 15 confirmed orders for the car and with the exclusive customer launch happening last night, I am sure they would have received about 10 or so more orders because it is an absolute gem to look at.
When the covers came off, the first thing you notice is just how sleek and neat the car is. The front bumper has been carefully designed and the whole car has been sculpted to make it as aerodynamic as possible. These key aero features ensures the car sticks to the track;
Fixed aero package
Dihedral doors with 'floating' tenddons
Flying buttress
Rear diffuser
The cabin is longer and wider and boosts all round space for the most accommodating driver environment possible. The layout is slightly different and although it is not that exciting, it is much more practical. It has been created with a focus on space and ergonomics in mind, offering great outward visibility and interior space for occupants and their belongings. Overall, the Sports Series is 11mm longer than the Super Series, and the cabin is both longer and wider, boosting all round spaciousness and increasing shoulder room. The carbon fibre MonoCell II chassis has been redesigned with a lower sill to enable easier entry and exit, and the redesigned dihedral doors further optimise access.
According to their press release, the 570S (and 540C) are 150kg lighter than their closest rival and the 570S boasts the highest power-to-weight ratio in its class of 428 hp / tonne. Weighing in at just 1,313 kg this 'baby' McLaren can hit 100 km/h from standstill in 3.2 seconds but the most astounding figure is the 0 to 200 km/h time of just 9.5 seconds. This car is properly rapid and there is nothing 'entry-level' about it. Some of the new additions to this model and standard features are;
Carbon ceramic brakes
Newly developed ABS software
Stop-start system to improve efficiency
At the moment there are no plans to bring the slightly cheaper 540C into the country because of the small difference in price (about R300 000). I will hopefully be getting a drive in the car early next year so until then, we have these pictures that Marc Rudman Photography captured of the beautiful new McLaren family member.