Whenever a car is driven by James Bond it takes on a glitz and glamour that transcends the vehicle itself. It's like getting the best possible sponsorship. Well the new film Spectre, sees the arrival of a custom-made Aston Martin DB 10. In fact there were 10 made for the film.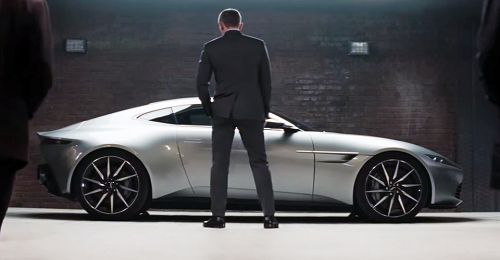 The car is certainly unique. It has 10 spoke alloys and a low profile to the ground. The tinted windows are extraordinary. The window tint is incredibly well done, and will probably be illegal in many countries around the world; then this is a film car.
The headlights look like they are slashed into the car and provide a smile across the face of the bonnet.
These cars are expected to go on tour around South Africa and also the UK. As we'll see later though don't expect to be able to buy one. One thing is for sure, anyone who buys an Aston Martin like this is going to face pretty hefty insurance costs as insurers strive to protect themselves against the inevitable bond imitation from any owner.
According to Aston Martin this new Bond car signals the future direction of these luxury models. It is suggested that this will essentially be a preview for the next generation of the V8 Vantage, due to arrive sometime in 2017. Indeed this DB 10 looks similarly proportioned to the V8 Vantage, and is perhaps the most aggressive looking Aston Martin ever built. The front grille on the face certainly adds manliness, with its angular lines.
Aston Martin and James Bond have now been associated for 50 years. Across from James Bond his nemesis will be driving a Jaguar-C-X 75 concept. Jaguar has been long associated with Bond villains. This car was first seen at the Paris motor show in 2010.
It is suggested that bond may also be seen driving a Fiat 500, four, as he always has a special sports car standing by, he sometimes slips into something a little less comfortable. That be surprised to see bond zipping around urban streets in a less sporty little number.
The world of Bond has seen some incredible cars over the years. It is also seen some pretty weird and wacky ones. This DB 10 looks set to be an interesting preview to the future of Aston Martin, and the future of aggressive, character filled sports cars which communicates a suave sophistication befitting of both Aston Martin and the bond brand.
So are you going to actually be able to get your hands on one of these cars. The short answer is no. 10 are being made for the movie, eight will be used in the movie, and no more will be made. The company line is firm on that. So, if you want to get a bit of this Bond action, you'll have to wait for future Aston Martin models are no doubt going to feature many of the same characteristics, and excite in many of the same ways.