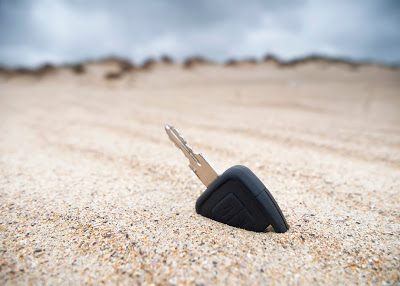 Anyone that owns a car knows that car keys have a very annoying habit of getting lost. At times it may seem that they are actually living creatures and deliberately disappear just to have fun with you. In the old days, there was a solution to this kind of thing: go to your local hardware store and have some spare keys made up. Today, it's not quite so easy because backup keys are not just a couple of dollars anymore, in fact they are likely a couple of hundred bucks. What you need is a "Lost Key Strategy" and this depends on what type of key you have.
Typical Keys
The typical car key, which was common until the mid-1990s, has no security feature other than its unique shape. The shank, the key's long metal part, has grooves and cuts like a house key. A locksmith does not need any extra equipment, they can use the same key replicating machine they use to cut other keys. A basic key will cost $2-$3 to cut because they are very easy to copy.
Electronic Key Fobs
On most modern-day cars, an electronic key fob (also known as a key remote) is an essential part of the key set. The cost of replacing an electronic fob may range from $50-$100, depending on the make of the key. You could beat this cost by buying a universal fob ($25 and up) and use your existing factory fob to program it. The process is similar to cloning TV remotes.
Sidewinder Keys
The shanks of sidewinder keys are definitely different from the old sculpted-style of simple keys. The shank is usually has deep slots engraved into it and is thicker. The machines needed to cut these keys are pricier than your usual key-cutting machines so they're not as likely to be found at every hardware store or locksmith. This is typically an item you get from a factory authorized dealer.


Transponder Keys
After the late-1990s, key makers started placing a "transponder chip" in the key's plastic head. The chip gives off a signal to the "immobilizer" receiver in the ignition. If this immobilizer circuitry detects that the incorrect key is in the ignition — the vehicle will not start. All dealerships have the needed machines to program this sort of key but they are expensive, often around $150.
Smart Fobs
Smart Fobs work like keys, but not shank-styled keys in the traditional sense. Smart Fobs are plastic fobs that you use to open the car doors and start the engine with the press of a button. A smart fob's main form of security is how it can make use of rolling security codes. This system randomizes the correct code and prevents thieves from hacking it through the use of devices known as "code grabbers." Smart Fobs are items that need to be bought from factory dealerships and can be $200 or more.
A Lost Key Strategy For You
As we've seen, modern car keys are expensive so the best defense against losing them is a super offense: get a spare key immediately! Consider this: if you would like to see what "really expensive" means, lose your keys when you're out of town and then get your car towed to a factory dealer to then have a set of electronic keys made. This might cost you $500-$800 and a couple days of your time. Take our advice, get a replacement key or smart fob on your own terms now and have it ready in the event that Murphy's Law hits.
Article Courtesy of: Milnes Chevy