The sad truth for Toyota fans is they've focused more on building family cars than sporty ones. Since the demise of cars like the Supra and the MR2, nothing "good" has filled the void. At least, not until now!
To tempt sports car lovers back into the Toyota family, the Japanese firm introduced the GT86. This isn't a car that people with families will want to buy. No, this is a car that only outright car enthusiasts will drive.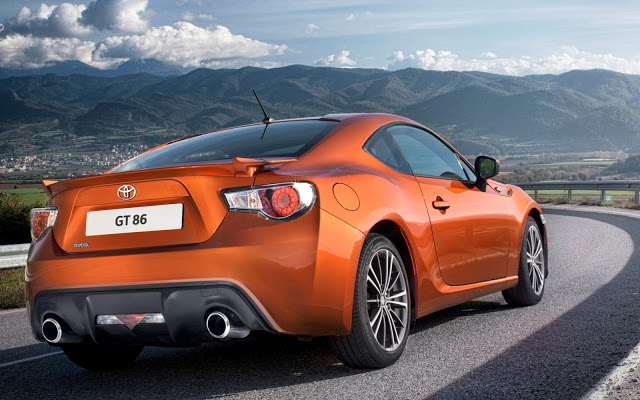 But, is the GT86 good enough to make people throw their money at their nearest Toyota dealer? The following seven reasons make a compelling case:


1. It's the Toyota sports car we've all been waiting for
Most car enthusiasts know Toyota spent years developing this model. They've also teased us with various concepts as the project to build this car took shape. And now that it's here, it's a car that you would go and sell your grandmother to buy!
2. It looks awesome
Toyota has designed some "interesting"-looking cars over the years. Some of them haven't appealed to their wider audiences. The good news is that the car maker got it right with the styling of the GT86 sports car.
The Toyota GT86 offers sleek curves, a mean stance and an eye-catching design. This is a car that will make turn heads!
3. It's got a monster of an engine under the bonnet
As with most sports cars, there is only engine choice. In the GT86's case, it has a 2.0-litre 16-valve petrol unit. It's naturally-aspirated and boasts an impressive 197 brake horsepower as standard. Inchcape Toyota says you can have the engine mated to a six-speed manual or automatic gearbox.


4. It's fast and agile
197 brake horsepower is one thing. But how does that translate to real-world figures? Well, the engine will get you from 0-60 mph in 7.6 seconds. And it's got a top speed of 140 mph. In theory, one could bolt on a turbo to make it go faster. But, Toyota like to make things simple here.


5. It offers impressive handling
The Toyota GT86 sits on the same 17-inch alloys and tyres used by its hybrid cousin, the Prius. Still, despite that fact, the car offers plenty of fun on the road. What's more, it's safe too thanks to the tuned suspension setup. This results in a sports car that sticks to the road, regardless of your driving style!


6. The steering wheel offers excellent feedback
Don't you hate it when a sports car makes you feel like you're driving a cloud in the air? That isn't a problem with the Toyota GT86. It offers precise feedback through the steering wheel. That means you feel more confident on the road and with your driving decisions.
7. Plenty of equipment as standard
The thing I love about the Toyota GT86, apart from the engine, is the huge spec list! As standard, you can enjoy having bi-Xenon headlights and LED DRLs. You also get power mirrors and windows, dual-zone climate control and keyless entry. One can even enjoy the race-inspired interior design!