Petter Solberg Disguised As Old Man Gives Mercedes Technicians The Fright Of Their Lives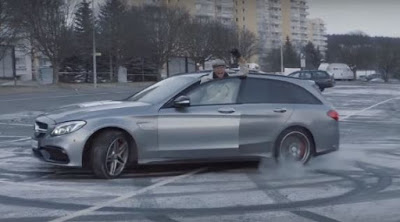 Seeing professional racing drivers disguised as your normal motorist to scare people is not a new concept. We have seen Jeff Gordon and Sebastian Vettel do it for instance but this time it is 3 time Rally World Champion, Petter Solberg, behind the wheel of the new Mercedes-AMG C63 S Estate.
Disguised as an 82-year old man, he calls the local Merc technicians to help him with the car as he says there is something wrong with the rear. When he reaches an open parking lot, the fun begins and the expressions on the passengers are absolutely priceless.