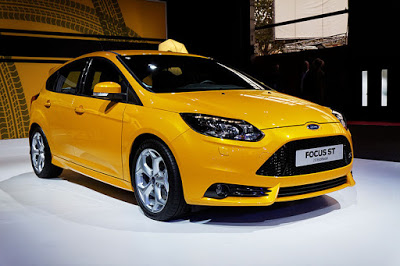 Most people are looking forward to this year's release of the mighty Ford Focus RS. It's the first 4×4 Focus developed by Ford's RS team, and it's a beast! But let's not forget about another high-performance Ford in the stable: the Focus ST.
It may not be as much of a monster as the new RS, but it's still a good high-performance hatchback. In fact, some people would rather drive the tamer ST than the RS, believe it or not! The Ford Focus ST got unveiled back in 2012. Today, it's still just as popular as the day it got launched on the market.
If you're thinking of buying a fast Ford soon, here's why you shouldn't dismiss the Focus ST:
EcoBoost power
The third-generation Focus ST boasts a 2.0 turbo engine as standard. From a standard start, the car will get you to 60 mph in just 6.3 seconds. That's around half a second slower than the previous generation Focus RS!
With 246 brake horsepower under the bonnet, the ST offers plenty of power when you need it. The engine works in tandem with a six-speed manual transmission.
Fuel economy is an impressive 41 MPG combined. Sure, we all know that real-world figures are likely to be 10% less than that. But, it's still good considering the weight and size of the Focus ST.
You might not know this, but there's also a diesel option in the Focus ST range. The 2.0 TDCi engine offers 182 bhp as standard, but higher fuel economy at 67 MPG combined.
Yes, the Ford Focus ST is a worthy contender for "Hot Hatch Of The Year". It's also a viable prospect if you're a parent and have to cart around your family with you. Let's face it; family cars don't have to be boring!
Trim levels
The Ford Focus ST comes in three trims. First of all, you have the ST-1. As standard, that comes with 18-inch alloys, air conditioning and keyless start. You also get a DAB digital radio with Bluetooth. Opt for the ST-2 and you get a few extra goodies. Examples include half-leather upholstery and climate control.
At the top of the trim range is the ST-3. With this, you get full leather interior, heated front seats, and dual-zone climate control. Bi-Xenon headlights and power folding mirrors are also standard.
Now, I know what you might be thinking. The Ford Focus ST is going to cost a fortune, right? Because the model is now just under three years old, there are some used bargains to be had. You could visit a used car supermarket and save thousands off the price of a new model.
Practicality
Many people (i.e. car enthusiasts with families in tow) will want to know how practical the ST is. The short answer is "very"!
There is plenty of cabin space, even if you're of a tall disposition. And the cargo area at the back is vast as you'd expect from a Focus. There are few high-performance family cars that I like if I'm honest. The Ford Focus ST is definitely up there with the best of them!