Patience paid off in this case as the Audi RS3 Sportback has to be one of the most addictive cars I have ever driven in my life.
Since the car went back yesterday, I decided to get my thoughts down as fast as possible to remember as much as possible but while I am writing this, I am extremely sad that the little German firecracker has left.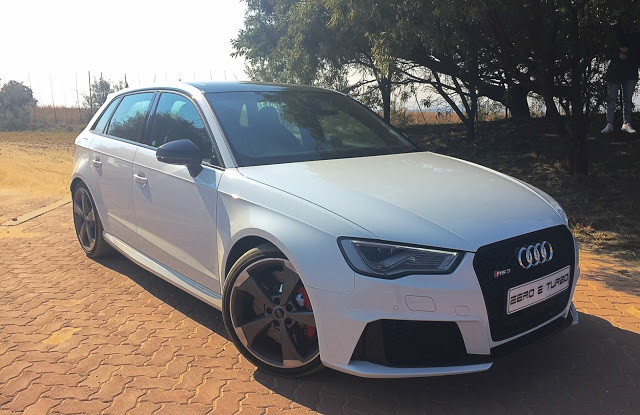 The particular car I had on test was finished in Glacier White (which is a superb colour) and had the following options; MMI Navigation Touch, Audi Magnetic Ride, LED headlights, RS Design Package, Sports Exhaust, Panoramic Glass Roof, S Sports seats at front, Audi exclusive black styling package, rearview camera and brake calipers in red. The price when tested was R823,769 making the options an extra R113,769 (Base price is R710,000). I am not going to get into the price debate again because we know these cars are expensive now but people are still snapping them up so the manufacturers are indeed getting their price points right to a certain degree. What I do need to say is a few of these options really should not be an 'option' on a car like the RS3. Sports Exhaust should be standard to give the driver that insane exhaust note, RS Design Package should be standard considering it is… well… an RS car, and the brake calipers in red will set you back an extra R4,170.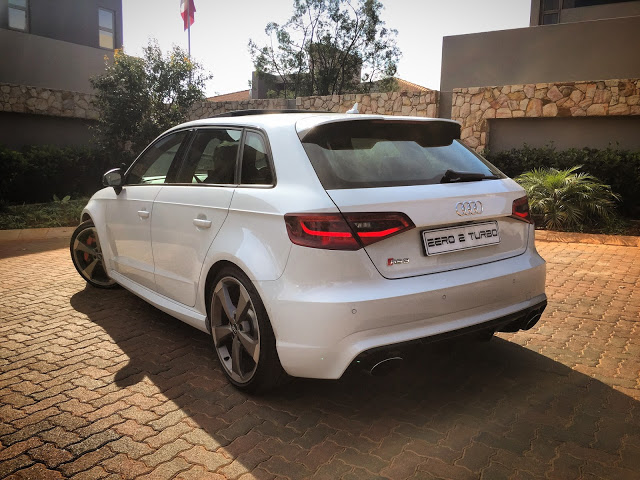 The car looks fantastic thanks to those wheels and sporty bodykit but at the back when you see two huge oval pipes nestled in the sexy diffuser, you know you have an angry German machine to manhandle. Well in-fact the opposite is true in this car because the engine, gearbox and drivetrain combo are so damn good that you feel in complete control the entire time. That 2.5-litre five-cylinder packs 270 kW and 465 Nm of torque which is good for a properly rapid time of 0 to 100 km/h time of 4.3 seconds. When you do give it the beans, the power being fed in is manageable all the time and the car gives you a huge confidence boost thanks to the four pieces of rubber sticking you to the road.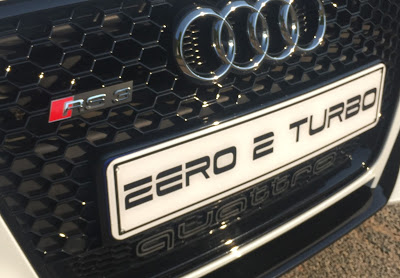 Inside the car the S sports seats are incredibly comfortable and they look the part too. Other than the mats, the steering wheel with some alcantara sections and some red inserts in the vents, it looks pretty much like any other A3. In Comfort mode you would swear you were in an A3 but you don't buy an RS3 to put it in comfort mode I can assure you. Pop it into Dynamic mode and this thing turns from a hatchback into a proper hyper hatch that will give you endless hours of fun and joy. As mentioned in the beginning, this car is one of (if not the most) addictive cars I have ever driven thanks to the sheer ease of performance driving and the sense of speed and more importantly the mental sound coming out of those oval pipes. You find yourself continuously flicking up and down the gears to hear the bark on up change and the snap crackle (and sometimes gunshot) on the down change.
The launch control in this thing is next to none. It took me by surprise every single time I did it and that is thanks to some very clever engineering, some rather sticky shoes, the boost build up in the 2.5T FSI and of course the legendary Quattro system. The force on your neck during the first second or so is something to experience and almost impossible to put into words. If I had to say something and get to the point, it is absolutely fuc*ing epic!
The big comparison here is of course the Mercedes-AMG A45 which I had the pleasure of driving a few weeks back which was a very good car but this RS3 is just that much better in many aspects. Firstly it does not look as boy-racer and many people who I showed the car too said it looked like an A3 with nice wheels. To the non petrolheads out there, they do not notice the rear diffuser and the front lip etc but on the A45 they all comment and say that looks ridiculous. Yes most of us like it as pure petrolheads but I think living with the RS3 is a much better option. It is better on fuel, it makes a sound that is streaks ahead of the A45 and critically, there is a lot more space.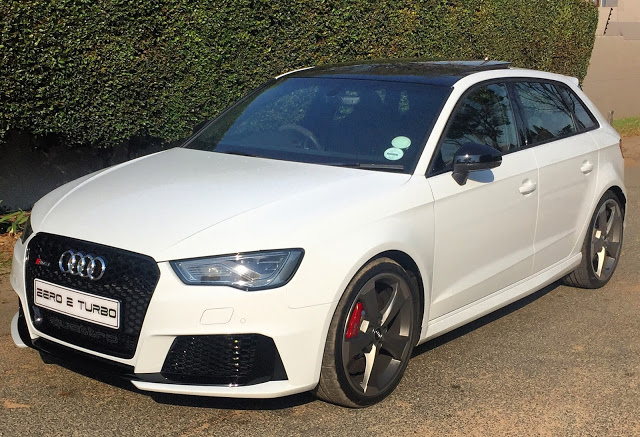 Many of you asked what my choice would be between this and the Mercedes-AMG A45 and I can say quite comfortably that this would be the choice. It is a cracker!
I am going to miss this car so damn much! Maybe in the near future, I can call one my own!
PRO's
Sound
Gearbox
'Subtle' looks – explained above
CON's