When I knew I was getting the BMW i8 for a few days on test I knew I would like the styling and I was excited to experience what everyone is calling 'the future' but I had no idea that driving a car powered by a battery as well as a tiny petrol engine would grab me so much!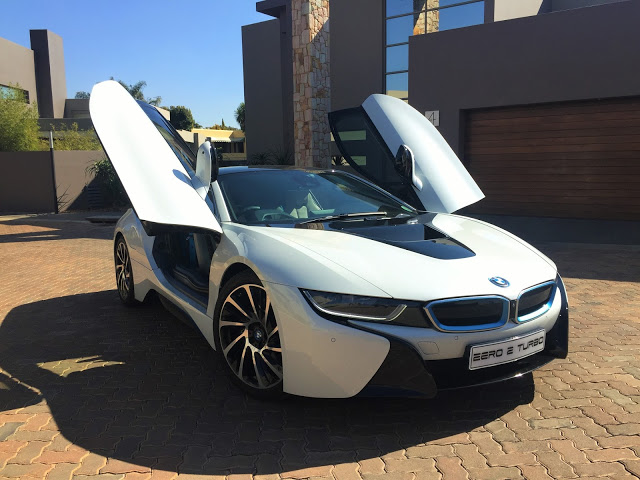 The car's styling is so far out that it will look new in 10 or even 15 years time. The lines and scoops and angles and aero work so well on a car like the i8 because it is so different to any other sports car out there today. In a car as quiet as the i8 I have never seen so many head turns simply because it is stunning to look at. I think a better word is striking actually as when you clap your eyes on it, they seem to stay there for a while. This particular car was finished in Crystal White pearl effect with highlight in BMW i Blue and to be honest it's probably the best spec for this car. The bright i Blue accents pop out of the pearl white paint and those 20″turbine style wheels wrap up the exterior brilliance. It looks low and wide from the front but it actually eases over bumps without damaging that beautiful front end. The scissor doors command attention when the fly open and although it is not the easiest to get in and out you kind of get the hang of it after a while.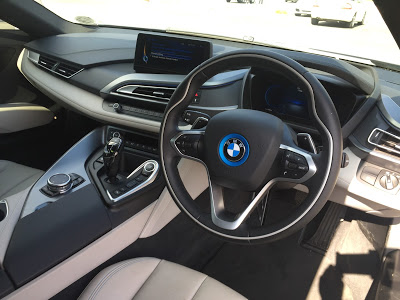 I could go on and on about the styling and looks of this car but let's get on to how it feels behind the steering wheel. Turning the car 'on' is an experience on it's own as it sounds like you have just turned on a mobile phone. No engine noise, just a sort of bell ring and the cars dash comes to life. Pop it in D or R and the sleek machine glides in an eerie silence. The standard mode uses the electric power (96 kW and 250 Nm of torque) when accelerating slowly and going at a normal speed but if you need extra oomph, then the petrol engine (170 kW and 320 Nm) kicks and and the hybrid system works in perfect harmony.
The car in E-Drive mode which uses only electric power feels like a rather fast golf cart and it's quite enjoyable to see the look on pedestrians faces as this menacing looking machine comes past with the only noise coming from the tyres on the tarmac. As a petrol head I thought I would hate it but for some reason it is quite contagious although it eats up the battery range which is only 30km after a full charge. In full hybrid mode, you can get up to 440 km of range which is pretty damn impressive considering the combined consumption is claimed to be just 2.1 l/100km. A small problem with it being so quiet is people do not hear you coming up behind them (in a parking lot for example) and this happened to me multiple times while I had the car. While on the topic of parking lots I have to point out that although the doors do not take up as much space when opening as they look like they do, you still need to pick your parking carefully as if you are too close to something you literally cannot get out the car without sliding onto the floor under the door (yes I had to do that once and it is not very graceful).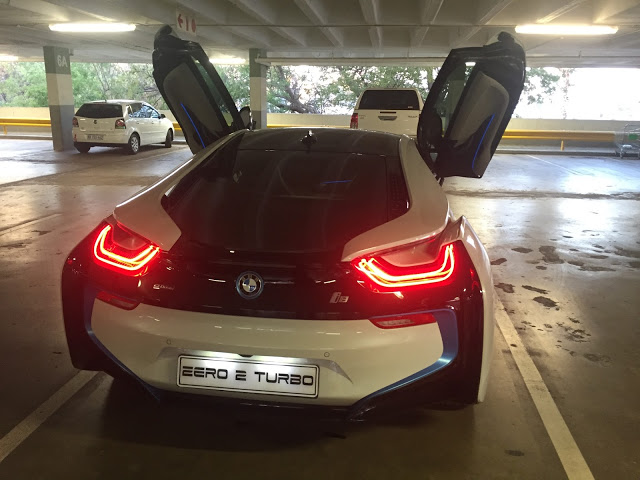 Pop the gear lever into Sports and not only does the petrol engine immediately start but sound is piped through the speakers to give you a sense of power and performance. Some people complain about this but to be perfectly honest, I do not give a damn. I am driving the car and if it sounds good inside the car (where I am) then it get's the thumbs up. The car is properly rapid and with a claimed 0 to 100 km/h time of 4.4 seconds it can keep up with pretty much anything on the roads (within reason). One thing I did notice was just how smoothly the power is delivered especially when accelerating from a rolling start. Foot flat in second gear and it really shoves you into your seat and you can feel your neck muscles pushing against the G-force's being created. If you have some fun in Sport mode the car is actually very dynamic and handles like a gem. Low center of gravity means it hugs the corners and with more than enough torque on tap from both electric and petrol motors, you can keep that petrol head heart entertained with ease.
The BMW i8 is a car that has really surprised me and many people asked if I thought it was the future. Well it most certainly is as we have seen many manufacturers going hybrid and a handful going full electric. In fact there is a fully electric BMW i8 coming in the near future which should pack quite a punch from the always available electric motor torque.
Prices start from R1,755,000 which is quite a lot but you are paying for the pinnacle in German technology and one seriously good looking machine.
PRO's
Styling
Economical
Power delivery
CON's
Impractical if living in apartment block (no plug point to charge)
Stealth approach in parking lots