On Tuesday I headed off to the new Kyalami Grand Prix Circuit to get behind the wheel of Audi's new flagship model, the R8 V10 Plus!
Looks wise, it is pretty bang on in V10 Plus form thanks to the stunning carbon rear wing and the new angular design looks a lot more modern and a lot more IronMan! There were well over 20 units available for the session which meant a very substantial amount of time in the car on the magnificent new circuit.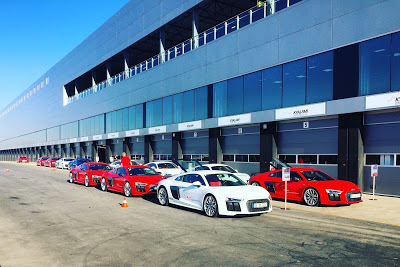 We started out by following the instructors lines around the track as this was the first time for many going around the circuit and this allowed us to take some time and play around with things inside the car. It is a pretty flawless layout to be honest with the important buttons attached to the steering wheel (including exhaust noise) and the virtual cockpit makes it fully configurable so you can display whatever you want while you are thrashing it around the track. The driver can choose between three views. In the performance view, the rev counter is centrally located, and other indicators and gauges are arranged around it – such as for torque, power, oil temperature, tyre temperature, g-forces and lap times on the race track.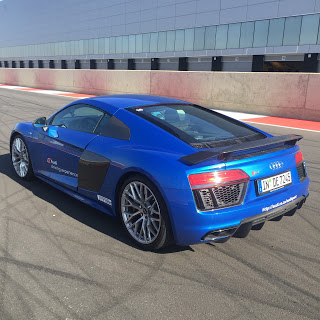 The V10 behind your head packs 610 horsepower which can accelerate you from standstill to 100 km/h in just 3.2 seconds and to 200 km/h in an insane 9.9 seconds.
After a short coffee break, we were allowed to do some hot laps and this is where the car impressed me immensely. I would like to think of myself as a fairly competent driver around a track but this thing makes you feel like you are Lewis Hamilton. The confidence it instills in you as you push harder and harder is incredible. The systems are working so hard to make you look so good and the V10 roar when you jump on the gas urges you to go faster and faster. Coming in to corners is quite dramatic as those carbon ceramic brakes almost want to pull your face off they are so efficient. As you would expect, it is rather addictive too as you just want to go and go with this car but two sessions of 3 flying laps each was enough to get a feel of just how good this car is. Punch it on the exit of a corner and it executes a neat four wheel drift which Sheldon Van Der Linde showed me multiple times when driving like a man possessed.
Is it an everyday supercar? I would have to say most certainly yes because in comfort mode it's quiet, smooth and very civilised. I can't form an opinion without actually driving it as an everyday car so let's hope I get lucky and get it on test from Audi South Africa.
The Audi R8 range will be priced as follows on introduction, including the standard 5 year / 100 000km Audi Freeway Plan:
Audi R8 V10 quattro S tronic: R 2 630 500
Audi R8 V10 Plus quattro S tronic: R 2 970 000


As part of the R8 laumch, Audi South Africa introduced Audi Sport officially in the country. This means a handful of dealers around SA will have a dedicated Audi Sport division to assist with RS models and of course the new R8. These dealers will also include an Audi Sport expert who have been extensively trained on the RS and R8 vehicles to provide the best and most knowledgeable Audi Sport experience for the customer.