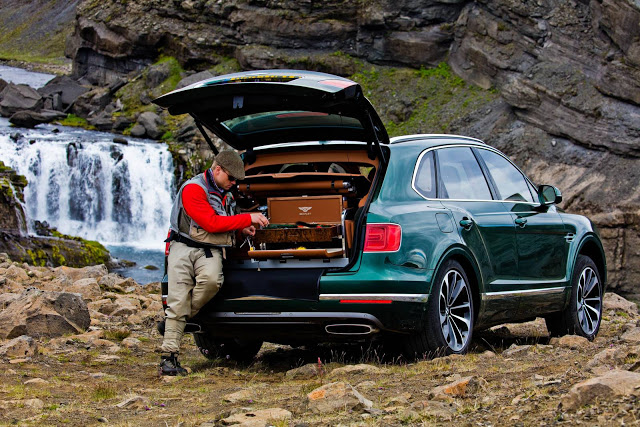 We know Bentley like to take things over the top when it comes to luxury in their cars but the special division known as Mulliner take it to a whole new level as seen here. Introducing the Bentley Bentayga Fly Fishing by Mulliner built simply to be the perfect fly fishing companion. What does this mean? Well it carries "all the equipment required for a successful day on the river" in the most stylish way possible. Most of the changes happen in the boot, where four fly fishing rods are stored in special Saddle leather-trimmed tubes with linen cross stitching. Joining the rods are a pair of landing nets in matching leather bags, which are stored in a bespoke, carpet trimmed hard pocket.
Bentley has also added three saddle leather-trimmed cases to Bentayga's boot. The largest is the master tackle station, which features Burr Walnut veneered drawers and a selection of tackle. A waterproof wader stowage trunk can be used to store used fishing waders, while a refreshment case houses to three metal flasks and a set of Mulliner fine-china tableware. An electronic dehumidifier is also onboard to ensure the cabin stays fresh and dry.
"The Bentayga Fly Fishing car showcases the breadth and level of detail a customer can expect from Mulliner," Bentley Mulliner director Geoff Dowding said. "This is an individual bespoke solution and our skilled craftspeople can design elegant and exquisitely executed bespoke solutions to complement any customer lifestyle or hobby."  Pricing for the Bentayga Fly Fishing was not released but you can bet it commands a significant premium over the standard £160,200 price tag.