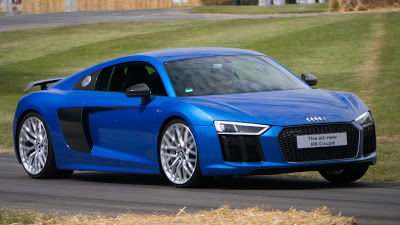 Even when you've driven the world's best supercars, the thought of getting behind the wheel of a top spec Audi always brings a unique sense of joy. I cannot explain why the German manufacturer holds such a huge appeal to myself and millions of other drivers. But it's existence is palpable, and has never been stronger than when I tried the Audi R8 Coupe.
While it is an expensive supercar, I've driven more expensive models. Having said that, I'm not sure I've driven many that look quite so beautiful. The bodywork alone is enough to get any petrol head salivating while it looks equally fantastic in the full range of colors. Looks are a crucial aspect of any supercar, and the R8 Coupe doesn't disappoint in creating that initial wow factor. It's a sensation that continues when you step inside.
After you find your way inside that is. Maybe I'm just an idiot, but I found the car quite difficult to access due to the sheer length of the R8's doors. It's probably something that any owner would get used to with time, but I can't deny that is was a slight issue. To be fair, though, it was virtually the only problem encountered.
The cabin of the R8 boasts the typical German efficiency. It's comfortable, uncomplicated, and easy to love. Moreover, the screens are so easy to see out of that you won't even need to use the sensors or optional cameras. So far so good, but the R8 really comes alive once you start driving.
From the second you accelerate away, this car is bags of fun. The V10 engine delivers as always, although I must admit I am intrigued to try the V10 plus model. On a good day, the acceleration can have you doing 60 in roughly 3 seconds. The only downside is that it lacks the wind swept rush that I imagine the Spyder will offer, just like Lamborghini LP 610-4 Spyder I tried not so long ago.
Having said that, the performance of this car boasts a level of versatility that makes it perfect for all driving scenarios. Of course, it's not gonna be the right car for your weekly trip to Walmart. But in terms of city, freeway, and track driving, it does everything you could ask of it.
Can I recommend buying this car? I guess if you've got the money, then sure. If it were me, I'd choose the standard options before letting experts like Kelly's auto repair make a few minor tweaks to take that enjoyment to the max. Even if it was just a case of completing a few simple transmission services.
For the average driver, however, a cheaper Audi model is probably a more likely solution. But if you get a chance to drive one on a track day, grab it with both hands.
You will not regret it.
Pros:
V10 noise
Appearance
Interior comfort
Suitable for everyday use
Cons:
Cost and running costs
Not the Spyder