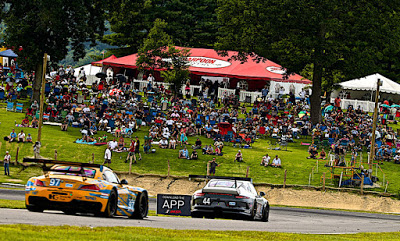 There are few things more thrilling than hitting the gas and getting the absolute most out of a car built for speed. Most people will never understand, unless they've actually been behind the wheel. It's not the same as driving a sporty luxury sedan down an open stretch of a national highway. No. The real rush is driving a car made for the sole purpose of racing on a track built for racing. This is where a man pits not just his car, but his skill against those of other men to see who the best is.
True drivers also know that it's more than driving skill that wins races. The thrill of racecar driving in America has to be experienced. A racer has to know the track, and how the local climate affects the cars and the blacktop. Each racetrack is different, and familiarity can be the difference between winning and losing. Of course the real fun is putting tires to surface, and finding out for yourself, but here's a quick rundown of some of the best tracks in the USA.
1. Lime Rock Park, Lakeville, CT
This beautiful, tree lined 1.5 mile track looks deceptively simple, but the nuance of its naturally contoured topography adds an extra dimension to racing on it. Just over an hour and a half away from Hartford, Lime Rock Park is one of the oldest tracks in America to stay in continuous operation since it opened in 1957. In 2008, the track was renovated and modernized including some of the most up to date safety features.
Lime Rock hosts everything from races, charity driving events, driving schools, test and tune days, and private testing. Each individual event or car club using Lime Rock will have their own rules and requirements to drive on the track. Whatever those are, this track is more than worth it.
2. Road America, Elkhart Lake, WI
This 4 mile, 14 turn asphalt track first opened in 1955 and has hosted races from NASCAR to Indy cars. This is where we mere mortals have the opportunity to roll our tires over where some of the giants of racing laid some rubber.
Road America is halfway between Milwaukee and Green Bay, and is open to various driving clubs and private owners wanting to run their own pride and joy through its paces. This track combines a rich and long legacy with some of the best racing in the world.
3. Sebring International Raceway, Sebring, FL
This track started off as an airbase used to train pilots during World War II, before being repurposed as a racetrack in 1950. Since then, Sebring has gained a reputation as one of the toughest tracks around. The notoriously rough surface over much of the track has become known as a car killer to many who have run it. One claim to fame Sebring has is its grueling twelve hour endurance races which many see as a proving ground before taking on Le Mans.
Sebring International Raceway has also been featured in numerous video games. Titles like the Forza series, GTR Evolution, Grand Prix Legends, and NASCAR Racing 2003 Season. The track is so popular that Grand Turismo 6 players have recreated Sebring using the game's track builder tool set. This may not matter much to real drivers, but it might be a good way to hook the kids onto the real thing.
4. Virginia International Raceway, Alton, VA
Owning a race car that's worth racing isn't exactly a hobby for those on a tight budget. That said, there's being able to afford racing and being able to AFFORD racing. Virginia International Raceway, or VIR as many call it, is the elite playground for those who fall in the latter category.
VIR has multiple track configurations which can make a race course range from 4.2 to a 1.1 miles. This lets the raceway be host to numerous categories of racing. Virginia International Raceway is also different than other raceways in that it functions more like a country club than a typical racetrack. Memberships are sold to the elite, and luxury lodging accommodations are also offered to members. If you can afford it, it's well worth it.
Conclusion
There's no doubt that putting the pedal to the medal is a thrilling experience. But, there's more to racecar driving then getting in, turning the key, and going. It takes skill, attention to detail, and courage to put the rubber to the road.
Perhaps a trip to one of these premier racing destination will show you just what it takes to drive with the best.