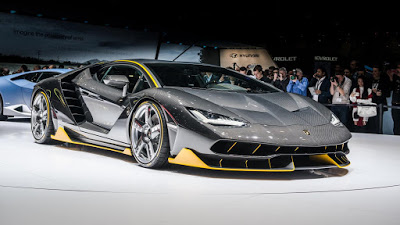 This may seem difficult to believe, but not every car with a seven figure price tag is good looking. Not every $1 million car is eye-catching for the right reasons. A large number of cars that require you to strike oil in order to be able to purchase, are built for optimum performance, rather than to appeal to people on a sensory level. Designers did not draw up the exterior plans of a number of the world's most expensive cars with the intentions of creating a work of art. They designed cars with aerodynamics – and very little else – in mind.
Below is a list of $1 million cars which are not just built for track day performance, but are also built to simultaneously turn every head on any street it is driven down. Cars to buy posters of and revel in their beauty, rather than their top speed.
Aston Martin One-77
Price: $1.4 million
When you see an Aston Martin this beautiful, James Bond immediately springs to mind.
The Aston Martin One-77 is an engineering and artistic feat. The exterior of each of the 77 made were moulded by hand, and it is this level of care which makes the One-77 stand-out from the crowd. It beautifully mixes the classic Aston Martin design traits with modern swooping lines, in order to give the two-door coupe a timeless appeal.
Ferrari F60 America
Photo Source: Flickr
Price: $2.5 million
Once upon a time, Ferrari built the most astounding looking cars in the world. During the 1960s and 70s, the Italian company produced the Daytona, the 250 GT California Spider and the 250 GT. In recent years however, Ferrari have replaced beauty with performance; producing a number of exceptionally fast but exceptionally ordinary looking cars.
The Ferrari F60 America is a return to form for the company's design team. The best looking Ferrari of the past twenty years, the F60 America has been explicitly designed to have the same sensory appeal that the Daytona, the 250 GT California Spider and the 250 GT. A classically cool car, that turns heads everywhere it is driven.
Rolls-Royce Phantom Serenity
Price: $1.1 million
This is not a car to be driven; not a car to worry about parking; not a car to worry about its extreme auto service prices. This is a car to be driven in by a chauffeur and to drink wine in. The Rolls-Royce Phantom Serenity makes its way onto this list because of its interior. With bamboo panelling, pearl inlays, white leather and cherry wood decorating the interior, the Phantom Serenity is comfortably the most lavish car in production.
Lamborghini Centenario LP 770-4
Price: $1.9 million
The Lamborghini Centenario LP 770-4 has muscled its way onto this list for one key reason: it looks like the Batmobile. Simply put, driving the Centenario is the closest someone will ever get to driving a road-legal Batmobile.
Released to commemorate Lambo's 100th birthday, the Centenario encapsulates what makes the company one of the most beloved car companies in the world. It is a bonkers car, and it is the opposite of everything that we assume makes an good looking car; but it is a still a car that we all long to be seen in.